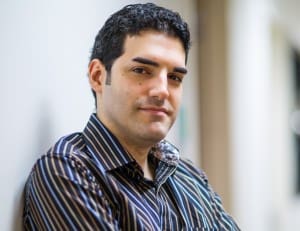 Tell us about yourself and how many books you have written.
The Midnight Stand is my debut novel. Telling stories that can engage a reader is a passion of mine. I enjoy many different forms of storytelling, be it either written or visual. I am very much into movies and like to watch a few a week if I am able to. I also enjoy photography and the art of film making.
What is the name of your latest book and what inspired it?
My book is titled The Midnight Stand and it is a dark look at a not too distant future. The story grew out of an idea I had about a highly advanced technocratic organization that seizes control of the government and proceeds to control all aspects of life including where a person can live to the food he eats and the job he has. It was inspired by such books as 1984 and Fahrenheit 451.
Do you have any unusual writing habits?
I tend to do much of my writing at night. I wouldn't call that unusual but it's just when most of my ideas hit me.
What authors, or books have influenced you?
I've always loved sci-fi, horror and dystopian fiction growing up and have been inspired by authors such as Lovecraft, Poe, Bradbury, Welles, Orwell and Stephen King. Some of my favorite books include Fahrenheit 451, 1984, The Dark Tower series, The Stand and Invasion of the Body Snatchers.
What are you working on now?
I am working on outlining the second installment of The Elysia Saga as well as working on different ideas for future novels.
What is your best method or website when it comes to promoting your books?
I feel promoting through Facebook is a very good way to spread the word about your book and build an audience as well as Goodreads. Amazon also offers some very good ways to connect with readers.
Do you have any advice for new authors?
Being a new author myself i really can't give any practical or successful advice at this point. I am still learning the waters of publishing and building an audience. All I can say is don't get discouraged during the writing process. The most important thing is finishing your novel and getting it in front of readers. For me, the satisfaction I get from knowing that someone read my story and maybe got something out of it is the most important thing.
What is the best advice you have ever heard?
Good writing is re-writing.
What are you reading now?
A Clash of Kings and Finders Keepers.
What's next for you as a writer?
Hopefully continuing to tell interesting stories that people want to read. I take it one step at a time.
If you were going to be stranded on a desert island and allowed to take 3 or 4 books with you what books would you bring?
The Stand, Fahrenheit 451 and Invasion of the Body Snatchers
Author Websites and Profiles
Louis A. Affortunato Website
Louis A. Affortunato Amazon Profile
Louis A. Affortunato's Social Media Links
Facebook Profile