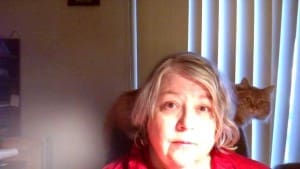 Tell us about yourself and how many books you have written.
I grew up as a military industrial brat, traveling to Southern California, Alaska and Seattle, Washington due to my father's work as a scientist. Now I live in San Francisco. Most of my adventures have been between the covers of a book, reading or writing. I also spend a lot of time staring at the ocean and happily indulging a small group of formerly feral cats, all of whom were rescued and who daily return the favor. My published books include: Gravitas: Valkyrie in the Forbidden Zone,The Falstaff Vampire Files, The Bride of the Living Dead and four books in the award-winning mystery series featuring Josephine Fuller, sleuth of size who doesn't apologize: Larger Than Death, Large Target, At Large and A Ton of Trouble. I practice Buddhism (Nichiren Shoshu). My late husband was a chess master and I wrote my first novel at chess tournaments.
What is the name of your latest book and what inspired it?
Gravitas: Valkyrie in the Forbidden Zone came from two ideas and my own, as usual, contrarian reaction to them. One was a book by Carl Jung,, Flying Saucers : A Modern Myth of Things Seen in the Skies. He suggested that we are witnessing the formation of a religion in the shape of the UFO craze. The other was reading paranormal romances where the heroine has many lovers (just can't help herself). I thought, what if that was the rule, and women who only wanted one husband were mistrusted. Then it was a matter of turning the world upside down in the book, which is one of my favorite parts of writing!
Do you have any unusual writing habits?
Only my stubborn refusal to follow advice. I've tried many times to find a more rational, organized way of writing, only to realize that chaos, confusion and self-doubt seem to be part of my process and I'll only waste my time fighting them.
What authors, or books have influenced you?
I saw a college production of Hamlet when I was 15 and I fell in love with William Shakespeare (also the character of Hamlet and the actor playing him, of course). That was also the year I had one of those moments of revelation when someone left a copy of T.H. White's The Once and Future King and said I could read it. Other encounters that changed my life: binge reading all the Jane Austen books while recovering from surgery, finding William Goldman's The Princess Bride while trying to escape from a parade in Hawaii. Growing up it was Louisa May Alcott, Mark Twain, Jack London. I read a lot of books about horses and I remember the cover of Walter Farley's The Black Stallion and Flame had letters children had written asking him to write the book and it impressed me that such a dialog could take place.
What are you working on now?
I'm working on a sequel to Gravitas called Valkyrie on Planet Fury, wherein the heroine, Sybil, gets an offer she can't refuse from the Valkyrian's cousins, the Furies.
What is your best method or website when it comes to promoting your books?
I'm learning a lot from other authors on Facebook and Twitter, and there's always a lot more to learn!
Do you have any advice for new authors?
Everyone is different, so what worked for me might not for someone else. I have a framed quote on my wall above my computer from the playwright Ferenc Molnar, "Shakespeare was a genius, the rest of us must simply strive to be honest."
What is the best advice you have ever heard?
Never give up.
What are you reading now?
The Real Jane Austen: A Life in Small Things by Paula Byrne
What's next for you as a writer?
I'm having fun spinning stories about worlds where things work differently than ours, ideally I hope to be able to entertain others in the process.
If you were going to be stranded on a desert island and allowed to take 3 or 4 books with you what books would you bring?
Definitely, the Complete Works of Shakespeare, the Major Writings of Nichiren Daishonin, the Complete Works of Jane Austen, and maybe Harold Bloom's The Best Poems of the English Language: From Chaucer Through Robert Frost–I liked his essays on Shakespeare–he appreciates Falstaff, which many critics do not–but the rule is I could only choose a few and this book has 1008 pages of wonderful poetry, which would help pass time on a desert island.
Author Websites and Profiles
Lynne Murray Website
Lynne Murray Amazon Profile
Lynne Murray's Social Media Links
Goodreads Profile
Facebook Profile
Twitter Account
Pinterest Account