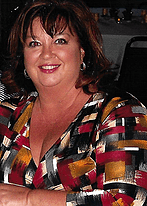 Tell us about yourself and how many books you have written.
Hi! I'm Maggie Adams. I live near St. Louis, MO with my high school sweetheart, Ned, and my wonderful kids, Katie (Kyle) and Ross (Valerie). My life is like a walking, talking sitcom from I Love Lucy, but I love it, although people do tend to keep their distance from me! Writing has always been my dream, with reading my favorite hobby.
To date, I've published three books in my Tempered Steel Series. I have a novella coming out at the end of September, Getting Lucky, and book four of the series, Love, Marriage and Mayhem will be released in November. I plan on completing the series with another novella about the Coalson brothers parents, a story for each of the remaining brothers, and a cookbook because all the boys love their momma's cooking! After that, fans have asked for more on the friends and family within the Grafton community, so who knows if the series will ever end!
I try to include a little bit of my life in everything I write, so when you read my books, keep your eyes wide open – I'm in there somewhere! Happy reading!
You can reach me at http://www.maggieadamsbooks.com,
Facebook at https://www.facebook.com/maggieadamsbooks,
Twitter -@authrmaggieadms,
Good Reads – https://www.goodreads.com/author/show/9867300.Maggie_Adams,
tsu – https://www.tsu.co/maggieadamsbooks
Amazon – https://www.amazon.com/author/maggieadams
What is the name of your latest book and what inspired it?
Something's Gotta Give is book three in my Tempered Steel series. It was released at the end of June, 2015, and continues the Coalson family saga with Chance Coalson, The Casanova of the County. Saved by shy firefighter Georgia Haines, from near death, he vows to make the quiet beauty his own. But Georgia's wise to Chance's romeo ways and it's going to take more than a few pretty words to make her change her mind about love and marriage. So Chance decides to show her what she's been missing by fighting fire with fire…
Do you have any unusual writing habits?
To work through a scene or if I have writer's block, I put on the headphones and get lost in the music. Rock, Dance, country, Pop, it doesn't matter. I hit shuffle on my Pandora and away I go! It clears my mind and helps me to focus on the feelings of the characters or the scene I need to write. When I've got it figured out in my head, more or less, I turn on classical and start typing. The characters sort of take over and I'm good to go.
What authors, or books have influenced you?
First romance novel was Flame and the Flower by Kathleen Woodiwiss. It's still one of my favorites. She mixed romance with suspense, family and humor. I was hooked at thirteen. Then came the Wolf and the Dove and I found the love of descriptive history mixed with romance. I've loved historical romance ever since.
I have discovered so many new indie authors that are truly gifted. Rosemary Rey has an erotic suspense trilogy that I think, is comparable to Sylvia Day's Crossfire series. Lexi Blake and Shayla Black have pushed the erotic envelope, so to speak, and allowed all of us to enjoy a little peek into the D/s world. Charlaine Harris built an entire world of vampires, werewolves and fairies in her Sookie Stackhouse series. And Amanda Quick/Jayne Ann Krentz/Jayne Castle, has taken the reader through Regency, Present Day and Futuristic scenarios that all blended together in an ongoing mystery/romance series. And then there's Nora Roberts, who has such a flare for storytelling that she simply looks at the paper and it's a bestseller!
What are you working on now?
My newest release will be a Tempered Steel series novella about Coalson brother, Lucky, and his time in Vegas. Then it's on to book four, Love, Marriage and Mayhem. Here's a bit about these two – With only a small clue to the whereabouts of the arsonist, Lawrence "Lucky" Coalson heads to Las Vegas. While posing as a bouncer, Lucky finds himself ensnared by the lovely bartender, Claudia. But, like Lucky, she's not what she appears to be and what happens in Vegas follows Lucky back home with unimaginable consequences.
While Lucky is away, Brandon and Nick foil an attempt to assassinate a pretty private eye and her sweet sister. Together with Sam and his best SEAL buddies, Jax and Noah, they vow to bring the ringleader to justice and rid their town of the criminals. But nothing goes according to plan, and the men must fight Mother Nature, a murderer, and the local law enforcement. Not to mention that the new secretary is definitely hiding something.
What is your best method or website when it comes to promoting your books?
I do a ton of Facebook promoting! Book groups, promotional groups, whatever I can find. It's also helped me find great websites like Awesome Gang and others. I use twitter daily, but I'm not very good at it (according to my son, I don't #hashtag properly). I also have two lovely promotion groups, Obsessed by Books and Stephanie's Ingenious Indies Promotion.
Do you have any advice for new authors?
Do your homework before you even start to hit publish. Get on Facebook, twitter get a website going, join as many groups as you can and participate to get your name out there before you release. Learn all you can about how to use social media for promotion and marketing, because, if you are like many of us, money for a marketing firm is zero!
What is the best advice you have ever heard?
Keep the fights clean and the sex dirty and you'll have a good marriage – from my grandmother on my wedding day.
What are you reading now?
I just finished Master No by Lexi Blake. As I stated earlier, she's my one-click, no need to read the blurb, go to gal! Love all her stuff.
What's next for you as a writer?
The voices are calling!! I've been putting down some ideas for a paranormal trilogy as well as a romantic erotica series involving older women and younger men.
If you were going to be stranded on a desert island and allowed to take 3 or 4 books with you what books would you bring?
The Joy of Cooking because I would need to learn how to cook fish.
The Bible because the more you read it, the more you find within it.
The Boy Scouts Guide – because it has everything in it to survive and I'm a klutz
The Complete Works of Alexander Dumas because it's awesome!
Their Virgin Hostage by Lexi Blake because I laugh every time I read it.
Author Websites and Profiles
Maggie Adams Website
Maggie Adams Amazon Profile
Maggie Adams's Social Media Links
Goodreads Profile
Facebook Profile
Twitter Account