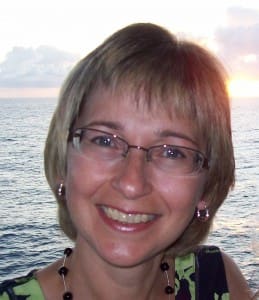 Tell us about yourself and how many books you have written.
I'm a lifelong writer, working in spurts, and have written two complete novels, one of which is published.
What is the name of your latest book and what inspired it?
My latest book is "Blue Hydrangeas," an Alzheimer's love story. I didn't plan to write a book about Alzheimer's, it just happened. I was working as a hospital nurse case manager when I met the couple who would become my characters Jack and Sara. What captivated me about them is that while she was definitely middle to beginning of late stage Alzheimer's and quite confused (but also lovely and endearing), he appeared to be physically frail, and the two of them had just driven up from Florida to New York by themselves. I found it amazing they were able to complete this journey without any mishap. Unfortunately, when they got home she somehow fell and fractured her pelvis and was about to go to a nursing home/rehab. My job was to make sure these plans went smoothly, and I discussed this with them in the presence of their son, who said, "Please do not let my parents leave here without me. I plan to assist them in the admission process." When I left for home later that day, I could not stop thinking about them and wondering: What would happen if somehow they left the hospital without their son? Where would they go? What would they do? My wild imagination took off and "Blue Hydrangeas" resulted. I do not have any personal experience with Alzheimer's other than working as a nurse and nursing assistant in the hospital and in nursing homes. I had three aunts who succumbed to the disease, all beautiful and brilliant women. I dedicated the book to them, and to my husband's grandmother, who also had Alzheimer's and whom I never met.
Do you have any unusual writing habits?
I developed repetitive strain injuries from an inappropriate computer workstation at my job, so I have a pretty unorthodox writing style. I don't (can't) write everyday, a practice recommended by many authors. I have to respect my limitations or suffer pain and loss of function for days. So I work in spurts, constantly prioritizing my tasks, doing as much as I can to finish the novel I'm working on and promoting "Blue Hydrangeas." I use a number of devices to assist me: iPhone, tablet, Dragon Dictation, laptop, PC, pen and paper, whatever it takes. It's frustrating, but I'm managing to pull it off.
What authors, or books have influenced you?
Elizabeth Berg motivated me to stop dreaming about writing and WRITE back in 2002. I was at the gym, laboring on the treadmill and reading the latest Good Housekeeping. I found an excerpt from her newest novel, "True to Form." I loved it, and thought, "now that's how I want to write." I started "Blue Hydrangeas" shortly thereafter. I've since read all of Berg's books; she has quite a backlist. I don't know if my writing lives up to hers, but she's a great role model. Anne Tyler is also a favorite of mine. I did my senior honors thesis on her work while a student at UMass Boston. I'm an eclectic reader. I'll read anything. I might not finish it but I'll give it a shot. I also read indies, because they need support. A lot of great writers go undiscovered, which is a loss for everyone.
What are you working on now?
My current work-in-progress is "Swim Season." It's a huge switch from "Blue Hydrangeas," because my heroine is a high school senior, Aerin Keane, the new girl in school and a champion swimmer who challenges a long-standing school record. The story is about more than swimming, however, as Aerin also tackles issues related to her parents' divorce, a pregnant stepmother, two stepsisters she doesn't want, and her Army nurse mother's PTSD and drug addiction following two tours of duty in the Middle East. Oh, and then there's her best friend's cute twin brother. My daughter was a high school varsity swimmer for six years and I always wanted to write a story about the girls and how their season unfolds. All of the special elements in this story serve to heighten the drama and the tension and it's truly a blast to write.
What is your best method or website when it comes to promoting your books?
EReader News Today helps sell a lot of books. I also love Twitter for getting the word out and meeting other authors. It's also helped me connect with people concerned about Alzheimer's. I used it to meet some swimmers who allowed me to interview them for "Swim Season." Facebook is not as useful; I find it hard to keep up with its constant changes. Other promotional websites I've used are Clean Indie Reads, Book Divas, IndieReader, Goodreads, and BookWorks. The Fussy Librarian and Story Cartel are also great for getting reader reviews.
Do you have any advice for new authors?
Don't give up. This is a long-term commitment; you will most likely not be an overnight success. If you're going to do this you must be in it for the long haul. Utilize all resources for promoting your book, including social media and the internet, but also local resources such as your public library and independent bookstore. Spend your marketing dollars wisely. Figure out how you define success: sales? reviews? awards? and use that as a barometer to see how you're doing. Don't let others determine whether you're successful or not. I offer additional advice in my blog post "Happy Birthday Indie Author! 7 Things I Learned My First Year." http://mariannesciucco.blogspot.com/2014/04/happy-birthday-indie-author-7-things-i.html
What is the best advice you have ever heard?
Don't give up.
What are you reading now?
I just started "Father Joe" by Tony Hendra. My library's doing a book talk on it. I'm also reading Ruth Reichl's "Delicious," which is yummy. I just finished "You Changed My Life," by Abdel Sellou, the man who inspired the French film "The Intouchables." Loved both. And I recently discovered Ann E. Burg's novels in verse, "Serafina's Promise," and "All the Broken Pieces." I said I was an eclectic reader.
What's next for you as a writer?
I write family dramas with real medical issues and tend to juggle projects. In addition to "Swim Season" I've got one complete but unrevised novel on my desk, "Perfect Match", the story of 14-year-old Jamie Diana who meets the father she never knew for the first time when he comes looking for a bone marrow donor for his daughter who has leukemia. I started the project in 2004 and it's been waiting for its chance at publication for years. Now that I've had success with indie publishing it may make it. I plan to launch it sometime in early 2015. Still in creation phase is a special project, a fundraiser for the HEART School in Haiti, called "Akisse and Gaspard Go to School," a day in the life of two schoolchildren, one in the US and one in Haiti. A good friend, Maria Blon, who is a strong supporter of this school, asked me to write this book and it's been both a learning experience and a mission. The children are wonderful. I have actually met Akisse who lives nearby and know Gaspard through interviews, photos and videos. We will run a crowd funding campaign to raise the needed money to publish this book (written in English and Creole) and will need to find artists and formatters willing to collaborate with us for little to no payment. Interested parties can contact me at mariannesciucco@gmail.com.
If you were going to be stranded on a desert island and allowed to take 3 or 4 books with you what books would you bring?
I've got a big, fat edition of "The Complete Novels of Jane Austen." I'd like to get the same kind of thing for Jan Karon's Mitford series. Anything Anne Tyler or Elizabeth Berg. And of course my Bible.
Author Websites and Profiles
Marianne Sciucco Website
Marianne Sciucco Amazon Profile
Marianne Sciucco's Social Media Links
Goodreads Profile
Facebook Profile
Twitter Account