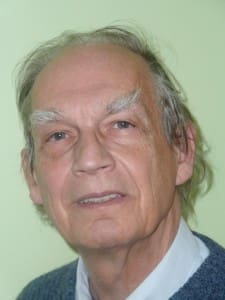 Tell us about yourself and how many books you have written.
I'm an Englishman, living in Spain with my wife and two crazy, calculating cats. The children have left the nest and are, semi, flying alone.
I love reading, music, jazz vocal particularly, although I listen to most music except heavy metal, techno and rap, and writing. It surprises many people that I don't have a television!
I was born in Witney, Oxfordshire, (UK), too many years ago to mention without embarrassment, and suffered through the usual childhood problems of mumps, measles and miserable schooldays.
My father worked for the government and changed his workplace frequently. The constant changes made me wary of making friends: if you don't have close friends, you don't get hurt when you have to leave them. Now, I still find making new friends difficult.
I worked in the area of photography, in London, then moved to Spain after my marriage. There, my wife and I established a successful language school in Andalusia. After many years,I am now concentrating more on my passion – writing.
I've published three books of the series 'The Chronicles of the White Tower', Janette's Tale, Bennett, and Winter Moon. The fourth book in the series should be published in March 2016.
What is the name of your latest book and what inspired it?
At present, I'm involved in the editing of Legacy, which is taking up a considerable time as the book runs to 136,000 + words. Although it is part of the series 'The Chronicles of the White Tower', it is also separate from them as it blends the present day into the medieval past. It is also part of an individual trilogy within the series, which is called 'Throwback'.
Legacy, which has a projected publication date of March 15th. 2016, was, in reality, the first book I had written which was sufficiently well written to present to a publisher. When I finally did get an Editor interested in it, she mentioned that it was really too long for the publishers guidelines, but if I wrote anything shorter, she'd like to see it. I sat down and wrote Janette's Tale, using the medieval background of Legacy as a setting.
They published that and the second book I wrote, continuing the series, Bennett. Although both books had good reviews, they didn't sell particularly well, so I regained my rights and self-published them, and the third book in the series, Winter Moon.
What inspired the original Legacy? That's a difficult question to answer, Maybe I just wondered if dreams could possibly become real.
Do you have any unusual writing habits?
Well, I usually write with a pencil in cheap notebooks of A5 format. Then I transfer this, or at least, the parts that are good, to a word document. When this is finished, which can take considerable time as I type with two fingers, I print it and sit down to read and correct the typescript. This usually takes longer than the writing.
Then it's a matter of sending the corrected typescript to my editor and discussing changes and adaptions with her. It's quite a drawn-out process.
Finally, it's ready and I can send it to print. Winter Moon took two and a half years to get to this stage.
What authors, or books have influenced you?
I've been reading since I was four, so, I assume, I've been influenced by many authors. One is probably Anne McCaffrey whose books are very much character based, but are also very good adventure fiction set in believable worlds.
What are you working on now?
At present I'm working on the second book of the trilogy 'Throwback', which is called 'The Summoning'. I doubt if it will be finished much before summer 2017 as it is both long and complicated – I'm talking about 200,000 words +, about three normal novels.
The Summoning follows directly on from 'Legacy', with the same characters, and more.
What is your best method or website when it comes to promoting your books?
Obviously – Awesomegang. I'd be embarrassed to say anything different!
Actually, I have only just starting to promote my books, up until now I've had no time to sit down and work at it. What with the day job – the academy: teaching, writing and running the business, time seems to vanish. And I have to eat and sleep.
Maybe …. Someday ….
Do you have any advice for new authors?
I hate giving advice! Nobody takes any notice of it. I suppose the best thing to say is: write, and then correct, correct, correct. I know typos are easy to make – I make plenty myself. But some of the cheap and free books I've downloaded don't appear to have been revised once, let alone edited. If I find too many mistakes in a book – I give it up and chuck it.
My advice is to have the book professionally edited.
Okay, editing takes time and money – but it is essential for a good product. I price my books high because I believe that a year, or two years, or four years (Legacy) of my time and effort is worth some reward. If people don't want to spend money on a good product – that's their problem. As Robert Heinlein once wrote (The Moon is a Harsh Mistress) 'Everything that is free is worth what you pay for it.'
What is the best advice you have ever heard?
Sir Winston Churchill said it, and it applies to everything in life: 'Never Give Up.'
What are you reading now?
I'm re-reading some of the old, familiar, Peter Wimsey detective books of Dorothy L. Sayers. I don't like to read books too similar to my writing as I find the style can influence my own work.
What's next for you as a writer?
Planning, and writing the final part of the trilogy 'Throwback.'
There may be other novels before that comes about – I've started a science fiction adventure book (part of which you can read on my website) and I should finish that first. I hate having unfinished projects hanging about. There is also a book on the Jazz Vocalists I'd like to write.
Well, time will tell.
If you were going to be stranded on a desert island and allowed to take 3 or 4 books with you what books would you bring?
Shakespeare's Complete Works – everything is there – Love, hate, greed, envy, comedy, tragedy – nothing else is needed really.
I'd also like an Omnibus of Raymond Chandler novels – great stuff!
Another choice would be an Omnibus of Anne McCaffrey books.
I don't know – I'd like a library.
Author Websites and Profiles
Mark Patrick Website
Mark Patrick Amazon Profile