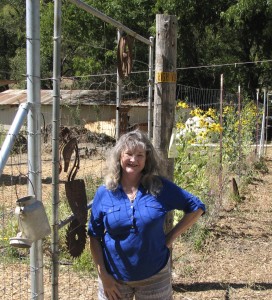 Tell us about yourself and how many books you have written.
I have been writing since my first story, The Little Raindrop, at age 6, illustrated by my mother. My love of reading came first. Since then I have written many poems and stories.
I am From
A slow dance on the shoes of father
into the ocean's crashing waves
baskets of peanut butter and jelly
and the sand of warm days
The man hiding behind walls
where dimension's invisible hand
weaves lines across a meadow
to my heart that understands
A woman's still simple warmth
holding porridge with grape jelly
four leaf clovers in her hand
to show me the magic bone from which
my cheek and chin and smile began
The silly shingles of a roof
outside my window's openness
where I hid my precious things
don't tell the rain
forgotton now the darning egg
not watching rocking chair take age
From each tiny blade of grass un-kept
as morning glory's crept along the fence
with continuation circle's way
regardless of the weather
I came from that kind of day
and midnight's petticoats around the room
ballet dancers as I slept
From the sky laced with wings
gliding on thermal highs and lows
dipping into the pictures in my mind
that grant passage into a poem's flow
I am from a peacock's colors
and the sound of doves on phone lines
the cozy keeper of the children of the children
and the soft hand of a teacher
I am from the number of stairs in a house
the timber of their music's rhythm
the piano of my shouting spirit
and the view from the upstairs window
I am from a grandfather with hair thinning
that loved with unwholesome hands
and sent me wondering into the stars beginning
why
I am from Sunday questions and gold stars
games of canasta and paper dolls
hand made kites and scooters
flapping sheets and running boards
skate keys and Lassie Come Home
I am from lollygagging and that's not like you
the ice cream man and Saturday Matinee
coloring turkeys with no feathers
and rubber band fights for play
I am from stick horses plum trees
and wrong choices
from late night wetting
dreams of tidal waves
and loud voices
I am from the time before I was
and in charge of every minute's
layers of poetry and music
and creating myself within it
What is the name of your latest book and what inspired it?
I am inspired every day by life, people, conversations, nature, the earth and all its creatures. I am currently writing a memoir. In 2013 my novella, Sweet William was published. It was inspired one night as I lay awake in my comfortable home listening to the sound of rain falling on an old aluminum boat outside my bedroom window. My husband and I owned a flower shop in southern California and often went to the flower market in Los Angeles in the wee hours of the morning. The area was where many homeless slept. That night in my warm bed, I wondered what they were doing to stay safe and dry. The seed was planted that night. The next morning I began writing Sweet William.
Do you have any unusual writing habits?
I often write in poetic form, using imagery to bring a scene or person into light. I go into a place I call, "the zone", where normal time and activity stop. I need quiet to get there and often spend hours, forgetting to eat or do any other usual thing. I am alive within the story in the zone.
What authors, or books have influenced you?
The book that influenced me as a child were Twig by Elizabeth Orton Jones and A Wrinkle in Time by Madeleine L'Engle. Because of my love of reading and writing I majored in English Literature in college and read many books that I loved because they were required, but more because I just wanted to. I enjoy novels that take me into the life of the characters.
What are you working on now?
I have been enjoying mixing my poetry with photography. My husband calls this creative expression, phoetry.
What is your best method or website when it comes to promoting your books?
I have a blog and also use social media.
Do you have any advice for new authors?
Follow your heart.
What is the best advice you have ever heard?
Found in, Bird by Bird: Some Instructions on Writing and Life, by Anne Lamott
What are you reading now?
Catching Heaven, a novel by Sands Hall
What's next for you as a writer?
I have heard it said that "time will tell", but it never tells me because now is all there is.
If you were going to be stranded on a desert island and allowed to take 3 or 4 books with you what books would you bring?
The book I am reading now so I could finish it, and several books that I want to read.
Author Websites and Profiles
Martie Ingebretsen Website
Martie Ingebretsen Amazon Profile
Martie Ingebretsen's Social Media Links
Facebook Profile
Twitter Account