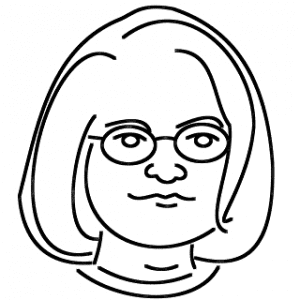 Tell us about yourself and how many books you have written.
After attending the Rhode Island School of Design and Art Center College of Design, Mary Ogle emerged with a solid grounding in the traditional techniques of oil painting. Not satisfied with the inherent limitations of brush and canvas, she stumbled upon the fascinating world of computer graphics. Working as a professional artist in the digital medium, Mary's commissions have included everything from fine art to fan art, book layout and cover design, event posters and magazine illustration. Mary's love for writing is more recent but no less heart-felt. She is the author of "Orangeroof Zoo" a story based in fantasy / magical realism combined with intricately drawn coloring book pages. Her tv show reviews and articles on geek culture can be found at esopodcast.com and whataculture.com. Mary currently finds inspiration in the Ojai Valley, residing in a snug little cottage with a recalcitrant cat.
What is the name of your latest book and what inspired it?
Orangeroof Zoo is a hybrid fantasy. That's my made-up term for an adult coloring book that is also a fantasy story. I was looking for information about self publishing and read an article about how popular adult coloring books were. Which surprised me but when I thought about it for a while it made sense. Coloring is the best part of making art at least for me. It's soothing and liberating and puts you into a whole other headspace. I liked the collaborative aspect of other people taking my drawings and creating something else from them. I did the illustrations first but the story was born as I worked on the pictures. These two characters came to life and started talking to each other. So I wrote down what they said.
Do you have any unusual writing habits?
When I have writer's block I take a walk. For some reason just getting out of the house and changing my environment gives me the freedom to think past the barriers. I sometimes go sit in the local cemetery. It's a good walk to get there and I like steeping in the history of the old stones and making up stories in my head about the lives people may have led.
What authors, or books have influenced you?
Octavia Butler and Alice Walker are two of my heroines. I know that my love of complicated characters comes from the many hours I spent mesmerized by their novels. Kurt Vonnegut's Slaughterhouse Five introduced me to non-linear story telling. Lewis Carroll gave me my love for the absurd. Margaret Atwood's The Handmaid's Tale showed me how important world building is.
What are you working on now?
I'm always working on many things – podcasts, web and merchandise designs, book design and covers, fine art and illustrations for various projects. I'm in the planning stages for the sequel to Orangeroof Zoo. I recently wrote my first flash fiction (about 300 words) which turned out to be a valuable exercise in cutting out everything in a story that isn't absolutely necessary. There is a character in my head right now who is begging to be born. He will probably end up in a short story I'm submitting to an anthology but I'm still working out the details of his life at the moment.
What is your best method or website when it comes to promoting your books?
I've had some success with posting on social media and with press releases. I tailor the release to the specific outlet I'm pursuing. I approach media that I have some kind of connection with – college alumni magazine, local weekly and daily papers, or anything that ties in with the subject of my book.
Do you have any advice for new authors?
Don't give up. Perseverance is key. Everything else can be learned but only by doing. And then doing again and again.
What is the best advice you have ever heard?
Make good art. – Neil Gaiman
What are you reading now?
Trigger Warning by Neil Gaiman.
What's next for you as a writer?
I have several short stories in the works. My next book will most likely be the sequel to Orangeroof Zoo. I keep my mind and options open in case any new opportunities arise.
If you were going to be stranded on a desert island and allowed to take 3 or 4 books with you what books would you bring?
A Wrinkle in Time – Madeleine L'Engle
Neverwhere – Neil Gaiman
The Lion, The Witch and the Wardrobe – C.S. Lewis
Alice Through the Looking Glass – Lewis Carroll
Author Websites and Profiles
Mary Ogle Website
Mary Ogle Amazon Profile
Mary Ogle's Social Media Links
Goodreads Profile
Facebook Profile
Twitter Account
Pinterest Account