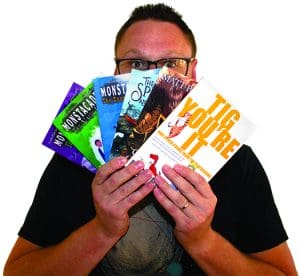 Tell us about yourself and how many books you have written.
For the last 8 years or so I've been a primary school teacher. For the last 4 years, I've also been writing children's books. They were born largely out of a desire to add my own voice to the amazing stories that are already out there, and to write something that I know my daughters and the children in my class would enjoy reading.
So far, I've written 7 books. There are currently 4 books in the Monstacademy series for readers aged 6+, which are funny stories about a girl's adventures at a school for monsters. I've written 2 books in the epic-fantasy series, The Shadowland Chronicles. These are more for readers aged 10+, especially those who love The Lord of the Rings, The Hobbit or The Chronicles of Narnia.
Alongside these, I've written a book of school poetry called Tig, You're It. The poems are all inspired by my time as a teacher, anybody who has ever been to school should find something they find funny in there.
What is the name of your latest book and what inspired it?
The last book I wrote was Tig, You're It, my book of school poetry. It was inspired by the great works of Allan Ahlberg and my time as a teacher.
Do you have any unusual writing habits?
I'm definitely what we call a "pantser". This means that I sit down and write my story from scratch, with only an idea of where it needs to go in my head. Some writers like to sit down and plan out every chapter and carefully plot each section. That works great for them, but I prefer to jump in and see where it goes.
The exception to this is The Shadowland Chronicles. That world is so big now that I have a printout of the map on my wall and use little counters for each character so that I can keep track of where they all are!
I also have to have music on when I'm writing, but it can't have any lyrics. There are some great playlists on Spotify that are filled with relaxing film scores which are great to write to.
What authors, or books have influenced you?
Ever since I was 12, I've been a devoted fan of Terry Pratchett. This has now reached a point where I'm hunting down first editions of the books and buying any merchandise I can get my hands on. I love Tolkein and Douglas Adams as well, for different reasons.
There are so many exceptional new authors bursting on to the scene now. My daughter and I both love the Morrigon Crow Nevermoor series by Jessica Townsend and I'm currently loving Scavengers by Darren Simpson. Mid-grade books are so full of excitement right now, it's a great area to be writing in.
What are you working on now?
I am currently working on a mid-grade novel about an evacuee who arrives in Cornwall and is quickly thrown into a treasure hunt. He'll meet a German Jewish boy who came over on the Kindertransport and I'm interested in exploring the relationship they might have; coming from such different backgrounds but with the same shared experience at the end.
What is your best method or website when it comes to promoting your books?
It's constantly changing. For a while, I had a lot of success with Amazon and Facebook ads, but they've changed a lot recently. Word of mouth is always good, and I love visiting schools to run my creative writing workshops with children.
Do you have any advice for new authors?
Write as much as you can. My writing now is so much better than when I started 4 years ago. I write a lot of freelance work as well which means I'm constantly improving. It's very hard to do that when you have a full-time job as well; I've been very lucky to have a supportive wife and family who've put up with me juggling two careers until recently.
What is the best advice you have ever heard?
It's a toss up between:
"How hard can writing be? After all, most of the words are going to be and, the and I and it, and so on, and there's a huge number to choose from, so a lot of the work has already been done for you."
Or
"Writing is the most fun you can have by yourself."
What are you reading now?
Scavengers by Darren Simpson and Body by Bill Bryson.
What's next for you as a writer?
Finish my current work in progress, then move on to the next Monstacademy and the final Shadowland Chronicles instalment. Whilst I'm doing that, I want to reach out to more schools to visit with my workshops.
If you were going to be stranded on a desert island and allowed to take 3 or 4 books with you what books would you bring?
Night Watch – Terry Pratchett (could also be the Shephard's Crown)
The Lord of the Rings – Tolkein (I'm counting the trilogy as one book, you can't stop me!)
Hitchiker's Guide To The Galaxy – Douglas Adams (again, the trilogy in five parts is just one book)
Harry Potter and the Deathly Hallows (the most emotional of them all)
And snook in under my coat, Nevermoor by Jessica Townsend
Author Websites and Profiles
Matt Beighton Website
Matt Beighton Amazon Profile
Matt Beighton's Social Media Links
Goodreads Profile
Facebook Profile
Twitter Account