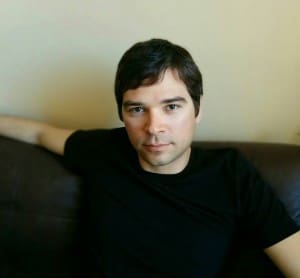 Tell us about yourself and how many books you have written.
I grew up in a small mining town in Northern Ontario where I spent just about every weekend in the bush hunting and fishing with my father. I studied English literature at York University, and attended the Humber School for Writers where I was lucky enough to be mentored by award-winning authors Joan Barfoot and Paul Quarrington. I've wanted to be a writer ever since I decided to go to university after high school, and not head out west to try to be a pro snowboarder or stay in town and work in forestry (I came very close to attempting both). Bad City is my first published novel. I live in Toronto with my wife and daughter.
What is the name of your latest book and what inspired it?
Bad City is a post-apocalyptic story about a lawless world in a not-to distant future. I have always been fascinated with post-apocalyptic literature, probably because I grew up when the year 2000 was thought of as a possible end-times. I love westerns, and the lawless landscape of the classic western is the setting I tried to convey in Bad City.
Do you have any unusual writing habits?
I write everyday, usually for 4-5 hours, and I always make a huge mug of black tea, with lemon and honey.
What authors, or books have influenced you?
My favorite writers are wordsmiths, authors who can do more with a single sentence than most can do with an entire novel, writers like Junot Diaz, Jonathan Franzen, Don Delillo, Michel Houellebecq, and Michael Winter, have all been very influential on me. But I am also a fan of great sci-fi, so I love the stories of Arthur C. Clarke, Kurt Vonnegut, and Philip K. Dick.
What are you working on now?
I am working on a literary fiction novel about a logger in a small town in Northern Ontario whose life slowly begins to unravel all around him. I'm trying to focus more on the words themselves, the sentences, and let the big picture figure itself out. I'm a big fan of not plotting too much. I plan a few scenes ahead just so I know what I have to work on next, but a story really begins to take off when the characters take on a life of their own, seem to make their own choices, and that's nearly impossible to do when the book is all planned out.
What is your best method or website when it comes to promoting your books?
Facebook. It all starts with the people you know, and your friends will be your strongest advocates.
Do you have any advice for new authors?
Write every single day, even when you are too tired or feel it won't be any good. I wrote Bad City while working full time. I'd write for 2-3 hours every night, and the nights I was the most tired or uninspired were always the nights I wrote something special that surprised the hell out of me.
What is the best advice you have ever heard?
Amateurs whine about writer's block. Professionals get up and go to work.
What are you reading now?
Ballistics by D.W. Wilson.
What's next for you as a writer?
Finish this next book and worry about everything that comes after, after.
If you were going to be stranded on a desert island and allowed to take 3 or 4 books with you what books would you bring?
Don Delillo – Libra
New Grub Street – George Gissing
Rendevous with Rama – Arthur C. Clarke
Many others but these are a good three off the top of my head.
Author Websites and Profiles
Matt Mayr Website
Matt Mayr Amazon Profile
Matt Mayr's Social Media Links
Goodreads Profile
Facebook Profile
Twitter Account