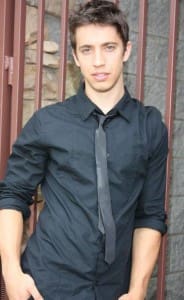 Tell us about yourself and how many books you have written.
My name is Matthew Wolf and I've just finished my second book in a nine book series called The Ronin Saga.
What is the name of your latest book and what inspired it?
The Knife's Edge is the first of the series of The Ronin Saga, and the second book is TBA! *Sorry, no sneak peaks yet!
The original idea, like a tadpole, was just randomly conjured one day in Oregon on a walk. I'd say the true inspiration was just too much time alone and an obsession with fantasy. Otherwise, the elements like the nine Ronin are without a doubt influenced by Arthurian lore, and Japanese culture, including even the movie the Seven Samurai, among many other things.
Do you have any unusual writing habits?
Lots of weird things that would incriminate me. Well, actually, that's not really true anymore. But I use to light a candle and write until the wick snuffed out in a puddle of wax, all while listening to LOTR in the background, and drinking port. I needed to FEEL the writer in me. Alas, I'm still weird, but now I just sit and write for hours on end.
What authors, or books have influenced you?
Terry Goodkind's Sword of Truth, the beloved Robert Jordan's Wheel of Time, Brent Weeks, (Tolkien of course) and much much more.
What are you working on now?
The second book of The Ronin Saga.
What is your best method or website when it comes to promoting your books?
I primarily use my own website www.roninsaga.com but I find myself most active on my fan page with over 2500 awesome followers. You can find that here: www.facebook.com/roninsaga
Otherwise, indie promoting is always hard, but you just have to continue to search out what you can, looking for the best ones, but trying everything. In the end, time is always an issue, but the more you put in, the more you get back.
Do you have any advice for new authors?
Probably a lot of what I just said; however, the most important thing that everyone always hears is this: write.
Moreover there's usually a reason when you hear an overwhelming choir of voices shouting the same thing, and that reason is two fold. Firstly, the more you write, the better you write. What sells books is quality of writing nine times out of ten. Secondly, the more you have out there, the more you can establish yourself. On my first book, selling a thousand books in the first few months was a staggering surprise. But imagine two books…. three books… four? And if they get better with each progressive novel? Imagine now it's a series with the writing not only progressing, but the story and the characters themselves. Well, then you have something amazing.
What is the best advice you have ever heard?
Never stop writing! And believe in yourself because that's the only person that matters. Imagine 80% supporters, 15% naysayers, and a few trolls. But then there's that 1 or 2 people who believe in you when no one else does, or to a greater extent, they see what YOU see. Simply put, hold on to those people for they will help, but only you can make your dream become a reality.
What are you reading now?
I need to read more! I finished the Wheel of Time series a few months ago and was a happy if interesting ending to a great series that bolstered my youth.
What's next for you as a writer?
More books! Finishing the Ronin Saga series!
What is your favorite book of all time?
The Wizard's First Rule. It inspired me to read and write and follow my passion.
Author Websites and Profiles
Matthew Wolf Website
Matthew Wolf Amazon Profile
Matthew Wolf Author Profile on Smashwords
Matthew Wolf's Social Media Links
Goodreads Profile
Facebook Profile
Twitter Account