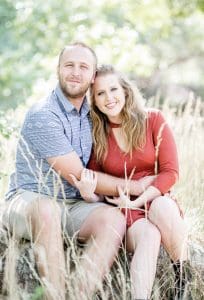 Tell us about yourself and how many books you have written.
I am 24 years old and just moved to Seattle from Arizona. I moved here with my new husband (it's been a little over a year) and my seven month old boxer lab puppy, Tkachuk (named after Coyotes player, Keith). I have been writing stories for, no joke, as long as I could write. I have three books published on amazon, another three in the works, and four other novels I never published.
What is the name of your latest book and what inspired it?
Latest Book was Resolution, the last book in the Little School of Horrors series. I can't even remember where the inspiration came from, because I wrote the first Little School of Horrors book when I was just fourteen years old. My older sister used to force me to watch scary movies with her when I was very little, so I sort of grew up intrigued by murderers.
Do you have any unusual writing habits?
I can't type like a professional writer. I only use my pointer finger and pinky finger on my left hand, and my middle finger and pointer finger on my right. It takes a little longer probably than other writers to get stuff out, but it would probably surprise some people to see actually how fast I can be!
What authors, or books have influenced you?
Pretty Little Liars by Sara Shepard, by far. When I picked up the first one in 2007, I was in the seventh grade and just thought it was some book about teenage drama. I read it until 3 in the morning and got totally creeped out by it. Ever since, I have loved the feeling of books being thrilling page turners, and naturally, with love interests!
What are you working on now?
I am working on a book I want to get a literary agent for. About a boy and a girl brought together because the boy's girlfriend, and the girl's best friend, both disappeared for reasons unknown. 😉
What is your best method or website when it comes to promoting your books?
Instagram and Facebook.
Do you have any advice for new authors?
Keep reading while you write! It will keep you inspired. I promise.
What is the best advice you have ever heard?
To make your character want something more than anything in the world, and then write out how to keep it from happening.
What are you reading now?
I am reading, "Truly Devious" by Maureen Johnson. So hard to put it down.
What's next for you as a writer?
Hopefully finding an agent and landing a book deal (:
If you were going to be stranded on a desert island and allowed to take 3 or 4 books with you what books would you bring?
Catcher in the Rye, Harry Potter and the Prisoner of Azkaban, Stung by Bethany Wiggins, and Stalk me by Jillian Dodd.
Author Websites and Profiles
McKenna Cooke Website
McKenna Cooke Amazon Profile
McKenna Cooke's Social Media Links
Facebook Profile