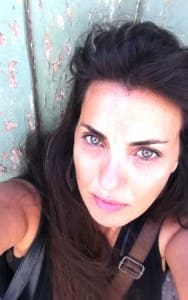 Tell us about yourself and how many books you have written.
My name is Meirav Oz, I'm a published Author, Screen Writer, a world-wide Speaker and an Owner of a Talent Recruitment Agency for Advertising, with over a decade of managerial experience in Israel's leading international Advertising agencies. Today I live In Tel Aviv but, I was born and raised in small town in Israel called Kfar–Saba.I was a curious little girl with a vast inner world. I remember my childhood surrounded by books, I've spent most of my childhood in the corridors of the community library.
I tend to forget that my first book "Sweet Dreams" was published when I was about twelve, it was a children's book written by a child. An allocation of thirty (must admit-childish and naïve) poems, (maybe that's why I tend to forget it) I wrote those poems when I was about nine or ten years old.
My second book was published much later. Years after I grew up to be a senior executive in the tough advertising industry. I always had a passion for creative people. My background in writing helped me in my career, but I neglected writing for years. After a few years in the advertising business i came back to it and started writing an anonymous column in an Israeli Advertising magazine. The writing was my gateway from the hectic crazy world of advertising. I wrote about myself and my life. Karnie the main character is based on me but no one knew I was the one behind this character. After a year the magazine went out of business and I found myself continuing writing this fictional personal diary and realized I'm writing a novel.
What is the name of your latest book and what inspired it?
The name of my novel is "One Wrong Move". It's a novel depicting the behind-the-scenes of the advertising world. People say it's like "'Sex and The City" meets "Mad Men" in Tel Aviv.
My job was definitely a wonderful inspiration for the book. I remember days while sitting at presentation in boardrooms, participating and yet the same time observing everyone and everything. I used to run to my office and write all kinds of thoughts, insights & ideas for scenes that I would write them later at nights and weekends.
Do you have any unusual writing habits?
I'm not the kind of person who writes every day. For me it comes in bursts of inspiration in various times and it can last for days and then disappear. I think a lot about the plot, the characters etc. The thinking process is the longest. I write notes on my Iphone in codes only I understand (sometimes even I don't understand them 🙂 ).
When it comes to the keyboard it pours out of me with almost no editing afterwards. Even if I do edit it, I always go back to the first version. For example the first two chapters of my novel were written at 4AM for a column that later evolved into a novel. I didn't change anything, all the characters were born that night.
A good conversation can inspire me to write. Driving is best for understanding characters and plots so I tend to write after driving, and the rest? Well I'm not gonna tell everything right?
What authors, or books have influenced you?
My sources of inspiration is very wide – it could be from Israeli authors such as David Grossman, Eshkol Nevo, or Amos Oz (no family relation..), but also from contemporary journalism writing or even TV series. For example I can defiantly say that Lena Dunham is a creator that makes me want to write.
What are you working on now?
A TV comedy show I've been working on, and My third book, called "Milk".
What is your best method or website when it comes to promoting your books?
My method was a bit different than usual, when the novel first published in Israel, it created a great buzz in the Israeli advertising industry and was an immediate success. I had a unique approach in the way that I've pre marketed my book. I've created a fictional parallel world to the plot in my novel, using a fictional character from real life. With a 360 campaign I've build the identity of the character – in both social and other media; and it made the Israeli advertising world fall for it. So, when the publisher read all the media exposer I had in Israel when it was published, they turned to me and offered to translate it to English. Actually this campaign for the novel turned into a lecture called "One Wrong Move – Book Launching Campaign – The Seduction Journey of the Consumer by building a Fictional World". I'm lecturing about it in various places in Israel and the world (I had a tour of lectures in California and also in crystal festival in France last December.
Do you have any advice for new authors?
Oh I have few:
• During the writing process: while writing don't be afraid of exposure and let yourself go all the way.
• Enjoy it. Don't think what people might say, or if it will turn into a success or a failure. Write it for yourself, even if it will never come out to the world.
• Take writing courses. I took about 5 including screen writing – it's very good for learning how to write authentic dialogs.
• Find inspiration anywhere. Start by listening to people. We tend to hear but not listen. I've learned to listen to people and most important to myself.
• Don't let anyone read your Manuscript, pick only people you trust their mind and judgment and remember that the only person you should listen in the end is yourself.
• Send your Manuscript to as much publishers as you can. The more the merrier…!
• Don't let negatives comments put you down, everything happens for a reason, this is not a cliché. If you believe in it – it will be publish someday.
• Once its published think of a unique way to promote it.
What is the best advice you have ever heard?
Don't be afraid to expose yourself. Even if you write about a pink alien everybody will still think it's about your life, so you might as well be true and honest, it's always works when its authentic and coming from your guts.
What are you reading now?
"Intimacy" by Hanif Kureishi and "The Solitude of Prime Numbers" by Paolo Giordano
What's next for you as a writer?
Becoming a published TV screenwriter with my TV comedy show.
If you were going to be stranded on a desert island and allowed to take 3 or 4 books with you what books would you bring?
"Eden" by Yael Hedaya, "Death of a Monk" by Alon Hilu,"Hebrew Love" by Shoshi Breiner and "One Hundred Years of Solitude" by Gabriel García Márquez
Author Websites and Profiles
Meirav Oz Website
Meirav Oz Amazon Profile
Meirav Oz's Social Media Links
Facebook Profile
Twitter Account