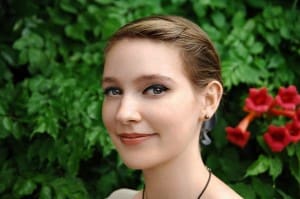 Tell us about yourself and how many books you have written.
I am a fantasy author enjoying life's adventures with my Shepsky dog, Shadow, out in Santa Fe, New Mexico. I am also a gamer and a cosplay enthusiast! Sports take up a bit of my life as well. I have written two novels so far: CHILD OF BLACKWEN and MISTRESS OF BLACKWEN. They are the first two books of the Artemis Ravenwing series, which could hold six novels.
What is the name of your latest book and what inspired it?
My latest novel is called MISTRESS OF BLACKWEN. I wrote the first draft of it when I was 14 years old in an old, ratty notebook. I'm 26 now. I snuck in the writing time whenever I was done with my assignments in class and when I was traveling for my volleyball games. The idea of the series came to me through a dream when I was 11; I originally dreamt of one character at the time. It wasn't until I was 13 when I decided to give the character and the ones that followed after a chance. They've been with me since!
Do you have any unusual writing habits?
I always have to have music on when I write, that's for sure. Although when I edit or write new material, my "table companions" have been Game of Thrones and Star Wars Funko Pop dolls. When I get the dreaded writer's block, I tend to escape to video games to help me get out of it; nothing like Legend of Zelda or Pokémon to get my brain working!
What authors, or books have influenced you?
Lord of the Rings is definitely my biggest influence. My love of elves and high fantasy came from Tolkien. Barb and J.C. Hendee's Noble Dead Saga influenced me since my middle school days, whereas the Vampire Hunter D novels did so in my high school years. They gave me the courage to write about a dhampir and to give that species a voice that they really do not have. Game of Thrones would have to be included too, as well as Neil Gaiman's American Gods.
What are you working on now?
I'm currently working on book three of the Artemis Ravenwing Novels, CHAMPIONS OF ARRYGN. I also sneak some time for a novel called SHADOW WALKER, the first of a series I would like to share with fantasy lovers one day.
What is your best method or website when it comes to promoting your books?
My go-to for promoting would be social media as well as my blog, Live to Write and Love to Dream. I have met a ton of great people through Facebook, Twitter, and Goodreads. The indie author community is a quirky one!
Do you have any advice for new authors?
Don't give up! Always do what you can to get yourself out there. Never stop writing, because there's nothing more rewarding than to do something you love.
What is the best advice you have ever heard?
To never forget my dreams. I even got a tattoo on my wrist for it to serve as a daily reminder for whenever I feel down.
What are you reading now?
I'm currently reading Hedge King in Winter by Michael E. Dellert.
What's next for you as a writer?
I'm working on my first book booth in the coming Santa Fe Comic Con! I've dressed as my main character in the Artemis Ravenwing novels and handed out bookmarks to help advertise myself, but it's time to have a booth for it too. I'm more than excited.
If you were going to be stranded on a desert island and allowed to take 3 or 4 books with you what books would you bring?
This is a tough one. It's just as hard as asking me what my favorite novel is. Since I really have to choose, I would take these four with me: The Devil's Diadem by Sara Douglass, Ines of my Soul by Isabel Allende, Dhampir by Barb and J.C. Hendee, and American Gods by Neil Gaiman.
Author Websites and Profiles
Melanie Rodriguez Website
Melanie Rodriguez Amazon Profile
Melanie Rodriguez's Social Media Links
Goodreads Profile
Facebook Profile
Twitter Account