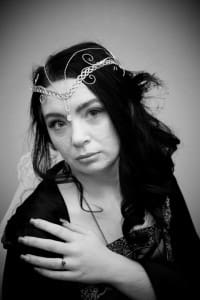 Tell us about yourself and how many books you have written.
Melisa Ruscsak
Born In 1982, a native to Lorain ohio, Melisa grew up living with her grandparents Frances and James Lasure. She attended Clearviw High Scholl as well as Lorain County J.V.S. While in J.V.S she attend the Culinary Arts program graduating in 2001.
In 2003 she welcomed the addition of her daughter Chyenne. Who inspired her to start to put her dreams to paper. A story she wrote after her daughter's birth, although not published, became the stepping stone to everything else she would eventually write.
In 2011 near tragedy struck as Melisa's health began to decline. By summer of 2011 she would need to use a cane to get around. Suffering a stroke she required a craniotomy where she suffered her second stroke. Leaving her with a partial impairment of her speech, and weakness on her right side. After surgery she would need to learn not only to walk again, but speak as well as recognize the alphabet.
Two years later in the fall of 2013 after a divorce, she would meet the man who would push her not only to fight to regain her physical strength but to put her creative mind to work. No longer allowing her to dwell on what she could no longer do but what she could.
In December of 2014 they would marry. With determination Melisa would walk down the aisle without the need of a cane.
A year later she would begin to write "Of Lite and Darke" Dreaming to see this work through to publishing, even if she would need to publish it herself.
In 2016 she would see her dream come true. With her daughter as her editor "Of Lite and Darke" was born.
What is the name of your latest book and what inspired it?
Of Lite and Darke :The New Rein was inspired by my daughter and husband who after reading some of creative writing stories… suggested that i write a story of my own.
Do you have any unusual writing habits?
Unusual not really i just write what comes to mind. Most days I write when my family is asleep.
What authors, or books have influenced you?
Anne Bishop and her Black Jewels novels, Jessica Day George Gail Carson Levine, Shannon Hale and many others
What are you working on now?
Currently I'm working on the prequel for Of Lite and Darke.
What is your best method or website when it comes to promoting your books?
When promoting go to as many outlets as you can. Do not limit yourself to just one place. Use Social media. Use your family and friends then find other places to promote your works.
Do you have any advice for new authors?
Dream big. As long as you belive that you can do it the nothing can stop you.
What is the best advice you have ever heard?
If you want something bad enough you will make it happen. Just don't give up.
What are you reading now?
Friday with the wizards. i know it's a bit silly but it helps my mind relax.
What's next for you as a writer?
get the next book wrote and published then keep pushing from there.
If you were going to be stranded on a desert island and allowed to take 3 or 4 books with you what books would you bring?
The Black Jewels novels or The Red Queen.
Author Websites and Profiles
Melisa Ruscsak Website
Melisa Ruscsak's Social Media Links
Facebook Profile