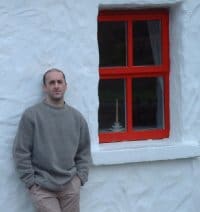 Tell us about yourself and how many books you have written.
I'm a 46 year old (birthday in 1 week!) IT Skills trainer here in Cavan Ireland which is a of the landlocked counties in the middle. I don't surf. I can't swim. I dream of the ocean. Maybe that's why I wrote a novel about Hurricane Katrina and the rain and the gales and deluge it wrought, because of some subconscious hankering to get wet!
Misisipi is my first full-length novel.
What is the name of your latest book and what inspired it?
"MISISIPI"
I started off writing a book about a broken marriage. It was pretty much a two-hander with the twist that one of the two (the wife character) had long since absconded and the story was centered around her husband traveling to where he thought she might be and having an ongoing head-space conversation with her as he did.
I had written pretty much all of the inner-discussions in loose form and I was teasing out what exactly he was supposed to find at the end of journey. I guess I must have secretly suspected that the novel in its current form was going to be quite a dour, serious, literary affair because I stumbled upon a SALON article about Hurricane Katrina and specifically the events (actual and reported) inside the Superdome and BAM I had this mental image of my female character walking up to the entrance of the Superdome as the Hurricane was bearing down and she was covered in blood and demanding to be let in. I just thought, "Wow! I want to know how she arrived at this point"
From then on, the novel began to re-calibrate itself around the Katrina events. The same basic jumping off point of the husband seeking his wife remained as did the examination of their inter-personal dynamics but now it was a mystery set against a more substantial context.
It took 4 years to write from conception to completion.
And yes, I know I spelled "Mississippi" wrong. There's a very good reason for that!
Do you have any unusual writing habits?
I write when I feel like it. I don't write when I don't, even once taking a year from doing any writing or thinking about the book in the middle of the 4 years. I am very very undisciplined!
What authors, or books have influenced you?
I like strong characters in well-thought through plots. Stephen King was a good tutor for both of those things when I was a teen and dreaming of being a writer.
To be honest, these days I look at books and view them through the prism of their mistakes such as sloppy climaxes, inconsistent character behaviors etc. To that end I tried to write MISISIPI such that I would not be annoyed if I was the reader. That may not have been a good move but that's what I did.
What are you working on now?
Nothing. I have some ideas percolating but I have not put pen to paper since I finished MISISIPI. I'm a big one for head-planning and getting the story coalesced in my mind before I begin to set it down (says he AFTER only 1 book!)
What is your best method or website when it comes to promoting your books?
Tell me, you – please! I am officially the worst person at promoting this thing!
Do you have any advice for new authors?
Write every book like it's your first. Write every book like it's your last.
What is the best advice you have ever heard?
Every sentence has to make sense, that's the whole point of a "sentence".
From the Oxford dictionary: A sentence is a group of words that makes complete sense, contains a main verb, and begins with a capital letter.
There is no point writing a view of a sunset or the fury of storm or the first kiss of your lovers if the actual description you construct with your sentence uses an analogy, simile, metaphor or something else that sounds gorgeous but makes no sense whatsoever.
I was very guilty of such vagaries in the past until I got beat up by the Common Sentence Police.
What are you reading now?
The Hundred-Year-Old Man Who Climbed Out of the Window and Disappeared by Jonas Jonasson
Just started it
What's next for you as a writer?
Do whatever you tell me I should be doing for correct book promotion!
I'm still waiting….
What is your favorite book of all time?
A Simple Plan by S. Scott Smith. Brief, slight, simple and yet extremely effective as a thriller and a character study. Whatever happened that guy by the way? "The Ruins" and then – nothing.
Author Websites and Profiles
Michael Reilly Website
Michael Reilly Amazon Profile
Michael Reilly Author Profile Other Bookseller
Michael Reilly's Social Media Links
Goodreads Profile
Facebook Profile
Twitter Account
Pinterest Account