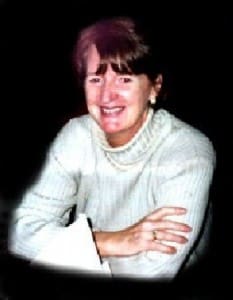 Tell us about yourself and how many books you have written.
I started writing fiction seriously in 2007, although I have a drawer full of early efforts. I began to enter competitions and 2008 was a wonderful year for me with the publication of my first book, A Night in the Manx Museum, lots of shortlists and a win in the Fantasy Section of the UK Authors Opening Pages competition with Manannan's Magic. I also won an International Competition with Kilmainham Dawn, a piece of flash fiction, and was asked to read my work at the West Cork Literary Festival. Since that time I have concentrated on writing, marketing and publishing. My current works are all on Kindle. They are as follows:
A Night in the Manx Museum – a children's adventure for ages 5-9. This is used in local schools.
Ghost Diaries 1: Gigi's Guardian – a light hearted romp through Swinging Sixties London.
Manannan's Magic – romance and magic set at the time of the Viking invasions in 800AD.
Five Lamps and Other Stories – a collection of 13 stories, including some prize winners.
Stories for Seven Year Olds – three children's adventure stories including magic carpets, a robin who could not fly and a lost Chinese dragon.
I also write non-fiction, as a swimming teacher and former senior manager. These books are:
Easy Time Management – saving time at home or at work
Learn to Swim (even if you are terrified) – I specialise with beginners.
What is the name of your latest book and what inspired it?
Duval and the Infernal Machine. This is historical crime fiction. I read History in university and specialised in the period of the French Revolution and the first Empire. This book, the first in a series, introduces Alain Duval starting work as a police agent, under the notorious Fouché. Heinvestigates the bomb attack on Napoleon Bonaparte in 1800.
Do you have any unusual writing habits?
What is unusual? Writing in my nightdress and dressing gown? Drinking lots of tea? If this is unusual then I'm guilty!
What authors, or books have influenced you?
Anne McCaffrey, Patricia Kenealley, Tom Clancy, Peter Tremayne, Annemarie Selinko and a host of classics authors such as Jane Austin.
What are you working on now?
I am currently working on:
the Duval series. The next will be either Duval and the Empress' Crown or Duval and the Windmill at Naveau.
the sequels to Manannan. Niamh of the Golden Hair and Emer's Quest.
a tale of the First World War, Wakes Week.
What is your best method or website when it comes to promoting your books?
Kindle Select free promos.
Goodreads Giveaways (for hard copy books)
A list of promotion sites including Awesome Gang!
I have had a lot of help from authors on the Awesome Gang Facebook page.
Do you have any advice for new authors?
Enter competitions – find out if you can write. If you can- go for it!
Use a good online free editing programme.
Sell your books through Kindle Select
What is the best advice you have ever heard?
As above
What are you reading now?
Anna Pitt's 101 Ways to Live Cleaner and Greener for Free
What's next for you as a writer?
Building my fan base, writing, writing, writing!
What is your favorite book of all time?
Either Anne McCaffrey's Dragonsflight or Patricia Kennealey's The Throne of Scone or Désirée by Annemarie Selinko. They are all 'comfort reads' for me and I return to them time after time.
Author Websites and Profiles
Michele McGrath Website
Michele McGrath Amazon Profile
Michele McGrath's Social Media Links
Goodreads Profile
Facebook Profile
Twitter Account