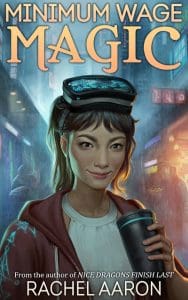 About Minimum Wage Magic
Making a living is hard. Making a living in a lawless city where gods are real, dragons are traffic hazards, and buildings move on their own can feel downright impossible.
Good thing freelance mage Opal Yong-ae has never let little things like impossibility stop her. She's found a way to put her overpriced magical art history degree to use as a Cleaner: a contract municipal employee who empties out abandoned apartments and resells the unusual treasures she finds inside for a profit. It's not a pretty job, or a safe one–there's a reason she wears bite-proof gloves–but when you're neck-deep in debt to a very magical, very nasty individual, you can't be picky about where the money comes from.
But even Opal's low standards are put to the test when the only thing of value in her latest apartment is the body of the previous tenant. Dealing with the dead isn't technically part of her job, but this mage died hiding a secret that could be worth a lot of money, and Opal's the only one who knows. With debts she can't pay due at the end of the week, this could be the big break she's been waiting for, but in a city of runaway magic where getting in over your head generally means losing it, the cost of chasing this opportunity might be more than Opal can survive.
This is the first in a new series set in the same universe as my Heartstrikers books, but you don't need to have read those stories to enjoy this one. MINIMUM WAGE MAGIC was written to stand by itself, so if you haven't read the others, don't worry! I wrote this book with you in mind.
Buy the book, and follow the author on social media:
Learn more about the writer. Visit the Author's Website.

Author Bio:
I'm Rachel Aaron, a bestselling author of fantasy and science fiction novels. I was born in Atlanta, Georgia, and have always been passionate about books and storytelling. My debut novel, "The Spirit Thief," launched the Eli Monpress series, and since then, I've written several other popular works, including the Heartstriker series, the Paradox trilogy, and the DFZ series. I'm known for my fast-paced, character-driven stories and my ability to create immersive worlds. When I'm not writing, I enjoy playing video games, watching anime, and spending time with my family.