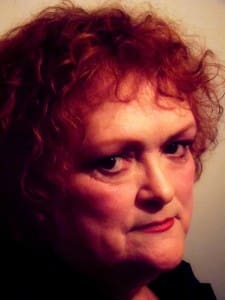 Tell us about yourself and how many books you have written.
Hi, I'm Maggy Jones, I write as MRJones.
? How long have you been writing?
I've been telling stories for as long as I can remember. I'm dyslexic so writing was difficult until I got a computer and Word. That made all the difference in my ability to write. My first novel, Ash on the Stairs, an erotic thriller, came out February 1, 2015.
? What inspired you to write in the first place?
A wild imagination and a voracious reading habit. Yes, I can read. Writing comes out scrambled.
? How would you describe your style?
Imaginative and eclectic in every aspect. I'm an artist and an RN who had a low entertainment threshold as a child.
? What authors inspired you when you were younger?
J.R.R. Tolkien, Ray Bradbury, Kurt Vonnegut, Ursula K. le Guin, Mikhail Bulgakov.
? How would you describe the part of the world that you live in and does it inspire you?
Southern swamp, on the Texas/Louisiana border. It's a heavily forested sub-tropical jungle with bayous, canals, rivers, and creeks. There are alligators, nutria rats, armadillos, snakes, cows, and horses. All this and oil fields, pipelines, refineries, and rice fields. Yes, this inspires me. My second book, Slant Well, is contemporary fantasy / magical realism set in this area and includes all the above mentioned items plus gods, magic, and mayhem.
? What are you working on at the moment?
Follow up adventures to both books as well as marketing and building my brand.
? What do you want from your writing? Fame, enjoyment or a regular income?
Fame isn't all it's cracked up to be. I already enjoy writing. A steady income would be wonderful.
? If you had a magic lamp that granted ONE wish for the future, what would it be?
A sound mind. My father had Alzheimer's.
? If you could go back in time to meet one person who would it be and why?
Leonardo da Vinci. I'd have to have a crash course in Italian of that day, but, I have always admired his mind and would like to see it working.
? If you could be one of your characters, who would it be?
I would like to be Evelyn Eden, the female lead in Slant Well. She's an ancient goddess living in this time with incredible power and human foibles.
What is the name of your latest book and what inspired it?
Ash on the Stairs is my debut novel. An erotic thriller/romance, the inspiration was my need to tell a story. Yes, the same story, boy meets girl, they overcome difficulties, and fall in love. I challenged myself to write that story my way with my characters.
Do you have any unusual writing habits?
I do my best writing late at night when the phone has stopped ringing.
What authors, or books have influenced you?
J.R.R. Tolkien, Ray Bradbury, Nora Roberts, Janet Evanovich, Mikhail Bulgakov, Kurt Vonnegut, and several more.
What are you working on now?
My second novel, Ash on the Stairs, a contemporary fantasy/magical realism adventure set in modern day Southeast Texas, is currently with Indie publisher, Eternal Press and is due out later this year.
I am also working on follow ups to both books.
What is your best method or website when it comes to promoting your books?
So far, word-of-mouth, Facebook, and Twitter.
Do you have any advice for new authors?
I am a new author.
What is the best advice you have ever heard?
"If it sounds like writing, rewrite it." Elmore Leonard
What are you reading now?
Wicked Business by Janet Evanovich
What's next for you as a writer?
Keep telling stories.
If you were going to be stranded on a desert island and allowed to take 3 or 4 books with you what books would you bring?
I sincerely hope there is a book on how to survive on a desert island. I want that one.
The Master and Margarita by Mikhail Bulgakov
The Hobbit by J.R.R. Tolkien
Alice in Wonderland by Lewis Carrol
Author Websites and Profiles
MR Jones Website
MR Jones Amazon Profile
MR Jones's Social Media Links
Facebook Profile