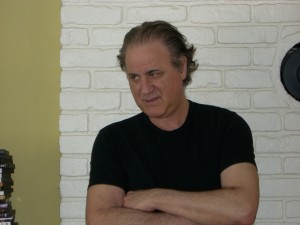 Tell us about yourself and how many books you have written.
I am a former newspaper reporter/columnist for The Newark Star-Ledger, with 19 years experience covering the New York City and New Jersey scene. I currently write for HBO's website. I have written and published five books: "Stinger," "The Zukovka Experiment," "The Hurting Game," "The Punishing Game," and "The Killer Sex Game." My Frank Boff Mystery series is based on the adventures of a friend who was a legendary DEA Agent and is currently a high profile private investigator. My books contain complex mystery and suspense, a hard edge, and plenty of humor.
What is the name of your latest book and what inspired it?
"The Killer Sex Game." It is based on the former scandal involving New York Governor Elliot Spitzer and the elite escort service he was using, paying $4,000 an hour. Spitzer was exposed, and the once hot candidate for President resigned from office.
Do you have any unusual writing habits?
I often open my eyes in the middle of the night in bed and a scene or an idea, or dialogue comes to me out of nowhere and I have to get up out of bed to write notes. Otherwise, I write 7 days a week, roughly five hours a day, and do massive rewrites.
What authors, or books have influenced you?
Raymond Chandler, Michael Connelly, Robert Crais, Lee Child, Robert B. Parker
What are you working on now?
The fourth book in my Frank Boff Mystery Series, "The Dead End Game."
What is your best method or website when it comes to promoting your books?
use websites that advertise free Kindle book days, and Facebook
Do you have any advice for new authors?
Write. Write. Write. The simplest definition of a writer is, Someone who writes
What is the best advice you have ever heard?
Write what you know
What are you reading now?
"A Wanted Man," by Lee Child
What's next for you as a writer?
A fifth book in my Frank Boff Mystery Series
If you were going to be stranded on a desert island and allowed to take 3 or 4 books with you what books would you bring?
"The Long Goodbye," "The Sun Also Rises," "Gravity's Rainbow."
Author Websites and Profiles
Nathan Gottlieb Website
Nathan Gottlieb Amazon Profile