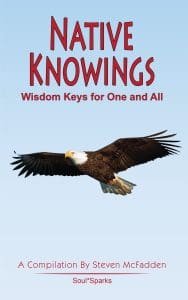 About Native Knowings
This original compilation–a small treasure–offers a concise and contemporary compendium of some key North American (Turtle Island) wisdom teachings to help support people through this era of transition.
"I ask you to listen,
not just with your minds.
I ask you to listen with your hearts,
because that's the only way
you can receive what it is,
what we are giving.
These are the teachings of our hearts."
– Frank Decontie, Kitigan Zibi Anishinabeg
What do some of the venerable, deeply rooted wisdom teachings of the Americas offer in our era of transition?
This Soul*Sparks small treasure offers an array of thoughtful messages, a compilation of keys that everyone has opportunities to turn. We'd be wise to understand and then to weave their enduring insights into the fabric of what we are creating for ourselves, our children, and our children's children
The words of contemporary elders, in particular, sound a note of urgency.
Buy the book, and follow the author on social media:
Learn more about the writer. Visit the Author's Website.
Like the Authors Facebook Fan Page.

Author Bio:
Greetings. I'm an independent journalist based in New Mexico. I'm the author of over a dozen nonfiction books.
Profiles in Wisdom.
Tales of the Whirling Rainbow.
Farms of Tomorrow (co-author with T.Groh).
Farms of Tomorrow Revisited (co-author with T. Groh).
The Call of the Land: An Agrarian Primer for the 21st Century.
Deep Agroecology: Farms, Food, and Our Future (Autumn, 2019).
Awakening Community Intelligence: CSA Farms as 21st Century Cornerstones.
Keys for Adept Aging: Tried, True, Trustworthy
Legend of the Rainbow Warriors.
Native Knowings.
A Primer for Pilgrims.
Classical Considerations: Musings prompted by the Late Harvard Master John H. Finley, Jr.
I'm also the author of Odyssey of the 8th Fire, an epic, online, nonfiction saga of the ancient and contemporary Americas <8thfire.net >.