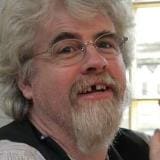 Tell us about yourself and how many books you have written.
I have two epic fantasy novels completed so far. They are both part of an ongoing series called "The Storm-bringer Saga". The first book Maerlin's Storm was written ten years ago but only published in eBook format at the end of January 2013. Since then, it's been re-edited and added to, whilst I was working on book two, "The Gathering of the Clans". The second book is due for release any day now. I've already started writing book three and hope to have it completed by next summer.
What is the name of your latest book and what inspired it?
My latest book is The Gathering of the Clans- The Storm-bringer Saga book 2. Inspiration comes from many sources but certainly celtic mythology has always been an inspiration for me. As well as this, there is my children, who are now teenagers. As the two main characters are a teenage boy and girl, I'm sure there is inspiration there.
Do you have any unusual writing habits?
I'm not sure what is usual. I have little or no premade concepts when i start to write, I just write and let it all flow. I like writing this way as it leaves for some great surprises. If i don't know how it is going to end or what is supposed to happen, then the reader won't either. This leaves for lots of twists and turns and surprises in the storyline. I have some basic idea of things I want to include and perhaps an outcome I want to acheive, but it's very unstructured. I wondered if I was ever going to finish book two as it was like a beanstalk, it just kept growing.
What authors, or books have influenced you?
David Eddings, Douglas Adams, Michael Scott, and Terry Pratchett to name but a few.
What are you working on now?
Book three of the Storm-bringer Saga
What is your best method or website when it comes to promoting your books?
I'm still learning when it comes to promotion.
Do you have any advice for new authors?
Don't give up and never stop learning
What is the best advice you have ever heard?
You can't do that! Naturally, I ignored it everytime.
What are you reading now?
Maureen and the Big One by Jonathan Hill. I've just finished Auto by David Wailing
What's next for you as a writer?
Waiting for final beta reading results for book two before sorting out a launch date.
What is your favorite book of all time?
mmmm tough one. I read many different types of books. Lets give you a list instead. Walden by Henry David Thoreau is full of snippets of wisdom, Agriculture by Rudolf Steiner is a tough read but very worthwhile. For scifi, The Hitchhikers guide to the Galaxy. For Fantasy, The Belgariad series by David Eddings. For horror, Ash by James Herbert was a good book. I'd better stop now!
Author Websites and Profiles
Nav Logan Website
Nav Logan Amazon Profile
Nav Logan Author Profile on Smashwords
Nav Logan's Social Media Links
Goodreads Profile
Facebook Profile
Twitter Account