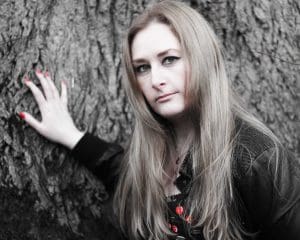 Tell us about yourself and how many books you have written.
I'm an English author in the UK. I've had over 35 short stories published (although have written many more) My latest was included in the Little Brown Book Group's Mammoth Book of Jack the Ripper Tales and I have 4 YA novellas published through Evernight Teen: Traitors' Gate, Bad Blood, Bad Timing and Lost in Wonderland.
What is the name of your latest book and what inspired it?
My latest book, Lost in Wonderland was my homage to Lewis Carroll's Alice in Wonderland. It was the book's 150th anniversary last year and I wanted to write something that honored the book's themes of being lost and growing up but didn't just follow the same plot and characters displaced in a different genre. The title was always going to be Lost in Wonderland, it didn't change whilst writing/ editing unlike other books I've written.
Do you have any unusual writing habits?
Hmmm, suppose it depends on your definition of unusual! I think the only thing I do, that most writers don't, is that I write my chapters out of order. I have a plan but tend to write the scenes I'm most passionate about first, then fit it all together at the end.
What authors, or books have influenced you?
When I was younger, the first horror books I read were by Poppy Z Brite – an amazing writer that can make even the most grotesque sound beautiful. I love reading a good series and always found that Laurell K Hamilton's books had incredibly engaging characters that kept you reading. I really appreciate a good idea too, something that hasn't been done before – although these books are kind of hard to find!
What are you working on now?
I've usually got at least 2 manuscripts on the go at once. I'm currently working on the last installment of the Battle of the Undead (vampires VS zombies) series which is called Bad Karma and also the second in my new series, The Twisted and The Brave which is called The Assassin of Oz.
What is your best method or website when it comes to promoting your books?
I think Goodreads is where its at. Lost of genre specific book groups and the whole thing is geared toward readers. I've also started serializing my free book, Traitors' Gate on Wattpad. They say that this site is 90% readers to 10% writers – so I'm hopeful that this one will be well worth the time.
Do you have any advice for new authors?
You can't please everyone all the time, this way madness lies! Also, have a thick skin and remember that a lot of success in this industry is down to luck and meeting the right people – so get yourselves out there and make the most of every opportunity.
What is the best advice you have ever heard?
Get on with things! You'll never regret pursuing your dreams today – but you will regret putting them off till tomorrow.
What are you reading now?
I'm currently reading The Crown by Kiera Cass. I loved The Selection series but I'm finding this one difficult. I think its because the character of America in the original series was a 'normal' young girl and the protagonist in The Crown is a princess – definitely a different mindset and I'm finding it hard her relate to.
What's next for you as a writer?
Lots of writing! And a boat load of promotion for my books. Pretty much what every author has to do these days.
If you were going to be stranded on a desert island and allowed to take 3 or 4 books with you what books would you bring?
Not allowed my kindle? I'm sure I could Macgyver up some sort of coconut adapter.
Okay: Dracula by Bram Stoker, I am Legend by Richard Matheson, Outlander by Diana Gaboldon and my own Lost in Wonderland (to remember the good old days when I wasn't stuck on a desert Island)
Author Websites and Profiles
Nicky Peacock Website
Nicky Peacock Amazon Profile
Nicky Peacock's Social Media Links
Goodreads Profile
Facebook Profile
Twitter Account