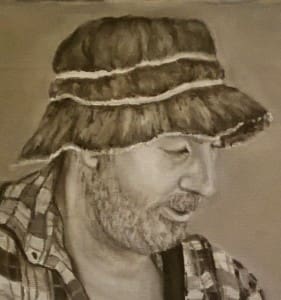 Tell us about yourself and how many books you have written.
Hi, my name is Paul and I was born in 1958, way back before colour was invented and the world was in black & white. I grew up in Ilford, Essex in the UK, close to London, and now live in a peaceful little town close to Chelmsford, Essex.
I've taken early retirement a couple of years ago, to help my wife with the care of our disabled son, and my primary hobbies are writing and painting oils on canvas.
The Little Sentinel of the Sierra Nevada is my first published novel although, like many of us, I've probably written a thousand more in my head.
What is the name of your latest book and what inspired it?
My debut novel, The Little Sentinel of the Sierra Nevada, was published in Feb. 2015.
Since early childhood I've had a great fascination for the American West, a passion ignited from watching too many John Wayne movies. I've written in many genres and styles, but this era in History has always inspired me most, and it was inevitable I should choose it for my first published novel. Having said that, I don't necessarily consider it a western. My interest is in the characters in my story, and how they interact under given circumstances. The American west is a geographical and historical setting, but the story could as easily be transposed to other eras.
Do you have any unusual writing habits?
I am a creature of habit, when it comes to writing. From beginning to end with this book, through each draft and edit, I sat in the same chair and listened to the same music through headphones. Once I've established a productive flow, then I tend to keep the same music going throughout any piece of work. For this book it was Pink Floyd on an endless loop.
What authors, or books have influenced you?
Almost every book I've read has inspired me in some way. Despite my love of the American west I've read very few books in this genre, although True Grit is a beautifully written work. I recently reread To Kill A Mocking Bird, among many of the older gems I've been revisiting. Joseph Conrad has always been a favourite, and I often pull one of his back out from the bookcase. But if pushed to give an all-time favourite read, then it would have to be Joseph Heller's Catch 22. To me it's the perfect blend of heartbreaking tragedy and comedy.
What are you working on now?
Honestly…?
I'm being extremely cautious in my research for my next novel. I know what I want to happen, or at least a good outline of the action and emotional consequences to my characters. I'm still sketching out a timeline, ensuring that my story fits the historical framework. This part took me about six months for my last book, and I can bog myself down in research when I love the topic so much.
What is your best method or website when it comes to promoting your books?
Promotion is all new to me. I have my own FB page and have featured my book on countless FB sites for ebooks, with varying success. I offered my book free for 5 days through KDP, which gave me impressive results, but sales soon slowed afterwards. I'm just now branching out and feeling my feet with regards promotion.
Do you have any advice for new authors?
People write endless books on advice to new writers, all very sound I'm sure, but in the end you have to knuckle down and WRITE. Some days it goes well, others not so well, but get those words down on the page. Commit your story.
What is the best advice you have ever heard?
The above.
What are you reading now?
I'm about to start East Jesus, Nevada, by Greg Townsley. Since writing my book I've only just realised what a wealth of westerns there are available, and this looked interesting so I thought I'd give it a go.
What's next for you as a writer?
More of the same, hopefully.
If you were going to be stranded on a desert island and allowed to take 3 or 4 books with you what books would you bring?
Catch 22, definitely. Victory by Joseph Conrad. Voices of Wounded Knee, the one non-fiction I'd allow myself. I'll have to stop now or I'll just keep listing forever.
paul williams's Social Media Links
Goodreads Profile
Facebook Profile
Pinterest Account