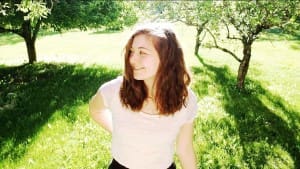 Tell us about yourself and how many books you have written.
I'm a nineteen-year old college student who basically spends too much time either watching Netflix or reading (and I don't mean the classics like all the good English majors – YA is my heartthrob). I published my first novel at fourteen and haven't stopped since. Thus far, I have six published novels, two of which being gender bender fairytale retellings. Fun stuff, I'm telling you.
What is the name of your latest book and what inspired it?
My latest book is called Hourglass and it's a fairytale retelling of Peter Pan. My newest writing genre has been fairytale retellings and I thought Peter Pan was a perfect match for what I was wanting to write – a gender bender of a classically male-oriented fairytale, with some creepiness thrown in.
Do you have any unusual writing habits?
I act out what's happening in my book. Which makes it super awkward at school when my roommate's around. I think she's scared of me.
What authors, or books have influenced you?
Basically anything that's well written. I'm a sucker for beautiful writing so if it's gorgeous in any way, it's inspired me.
What are you working on now?
More retellings! Beauty and the Beast, Sleeping Beauty, and Frankenstein to name a few. 😉 (I know, Frankenstein isn't a fairytale…but it's awesome.)
What is your best method or website when it comes to promoting your books?
I don't know if I have a proven method of promoting my books but what I've found to be most rewarding is just engaging in conversation with my readers. I love, love, love, when readers reach out to me and we can talk not only about my books but about anything at all. Twitter, Youtube, and Facebook are my favorite things ever because of that.
Do you have any advice for new authors?
Don't give up. Yeah, I know that seems obvious, but seriously. It's easy to get into the whole publishing world, get intimidated and frustrated and just back out. But you have to learn that publishing is a slooowwww business and that things take time.
What is the best advice you have ever heard?
Probably what I just mentioned above – in better terms of course. I remember a day when I came so close to giving up all my writing and publishing goals. I had just received some pretty harsh rejection letters from publishers I had high hopes for. My mom sat me down, looked me in the eye, and told me not to give up on anything that I really wanted in life. She said if I wanted it bad enough and worked hard enough that it would eventually come.
What are you reading now?
I'm currently reading The Ring and the Crown by Melissa De La Cruz. Very fantasy and very fun.
What's next for you as a writer?
That's an interesting question because it's something I've been wondering about. As a new adult and a college student it feels like everything is changing so why not my writing? I know I still love YA and scifi, but who knows what I might end up writing when I actually grow up (nineteen is not an adult, let's be read here).
If you were going to be stranded on a desert island and allowed to take 3 or 4 books with you what books would you bring?
Oh, God.
Um.
Okay, so I'd take the Bible.
And Shatter Me by Tahereh Mafi (Yep, I know, from the Bible to crazy romance YA…).
Little Women
Author Websites and Profiles
Pauline C. Harris Website
Pauline C. Harris Amazon Profile
Pauline C. Harris's Social Media Links
Facebook Profile
Twitter Account
Pinterest Account