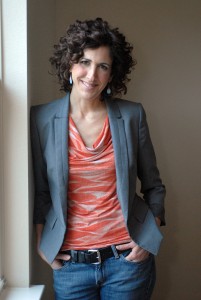 Tell us about yourself and how many books you have written.
I'm a former actor, journalist, and waitress–besides my fiction writing, I'm a relationship writer for major media sites like Huffington Post, She Knows, and Elite Daily. I'm currently working on my fourth novel in the Breakup Doctor series, although there are two other manuscripts I've written that aren't yet published. Well, three if you count my first novel at age six, a short work entitled "All About Me," printed (literally) on construction paper in crayon (in a very messy font), bound with string, and filled with insightful revelations like, "I like eggs."
What is the name of your latest book and what inspired it?
The one that's about to be released is called Heart Conditions, and it's book three in the Breakup Doctor series, which was inspired by something that happened when my now-husband and I were first dating.
We had been talking or e-mailing almost every day since we met, but a month or so later he went on vacation to celebrate a landmark birthday. And after all this intense conversation and interaction, he fell off the grid for days.
It was early enough in that I was pretty sure he was there with someone else, and I freaked out over it, because we had been connecting so well (and so much!) that I wondered how I could have misread things so badly. Only to find out after a whole mushroom cloud of crazy that he was at a yoga retreat type of thing—not a silent-meditation retreat, but more like a wellness resort—and they discouraged cell phone use.
I call this the Great Disappearance, though my husband calls it the Great Psychosis. Which argument I probably cannot counter…even retelling this story here, I'm blushing a little at how insecure it sounds to me now. But this is yet another piece of the genesis of the book—even the most logical and sane of us can get a little crazy in a relationship, especially if our feelings are deeply engaged.
Do you have any unusual writing habits?
Until a handful of years ago I could only write longhand—it was like my creative brain disconnected as soon as a keyboard came between me and the page. I had to literally train myself to be able to write on a computer. Now I don't know how I did it longhand—typing lets me keep up with my thoughts so much better. Of course, when I'm stuck, that damn flashing cursor is a nasty little taunt.
What authors, or books have influenced you?
In 2005 I read Greg Behrendt and Liz Tucillo's He's Just Not That Into You—and it quite literally changed my life. The prototype of pretty much every guy I and my girlfriends had ever dated was in there—the one who never actually asks you out; the one who'd rather drink (or get high) when he's with you; the one who cheats; the one who comes on strong, then disappears. The "This Is What It Should Look Like" sections opened up a new idea to me—the things my friends and I were accepting as part of normal relating between men and women didn't have to be part of our equation if we didn't want them to be. There were good men out there; it did look different when a guy was really into you—I mean really into you—and we deserved to have it.
My dating life changed almost overnight—I didn't even bother anymore with anything less than someone who seemed to really like me, to want to get to know me, to give me his full attention when we were together, and not play games or hide behind "fear of commitment" or "having been burned." In 2007 I met the man who is now my husband, and it really is as simple as Greg and Liz said—if a guy is into you, you know it. He shows you, all the time. Now that I am in a healthy and happy relationship, it's kind of stunning to me that I and almost every woman I know, of every age, go through a period when we don't realize this simple fact, and we explain away behavior on a man's part that's negligent at best, appalling at worst, with ridiculous excuses like "he's just afraid" or "he's been burned before."
I still pass along He's Just Not That Into You to every woman I know who's dating, from my teenage niece to my mom when she went back into the dating pool, because we all deserve to know our worth and there's no need to accept anything less than a guy who is really, really into us. That's what the Breakup Doctor series grew out of. I wanted to share with every woman everywhere all the wisdom and kindness and common sense in that book, and I wanted to write stories. Most important, I hope that the series is as fun to read as it was for me to write. But it's also my dear hope that women might read the books and see themselves, and begin to believe that there really is better out there than what they might have found, and that they deserve it one hundred percent.
What are you working on now?
I'm almost finished writing book 4 in the Breakup Doctor series, OUT OF PRACTICE. That will be the last in the series, which is a bit sad, but I think Brook's story is told (for now!).
What is your best method or website when it comes to promoting your books?
Engage! The bottom line is, your readers are your career; without them, you're writing into a void. Hearing from readers is one of my favorite things, even if it's just a quick comment they make on my status post on Facebook or similar, and I always engage—I know that for me, it's a thrill to connect with writers whose work has given me pleasure.
Do you have any advice for new authors?
Put out a hand. I've been blessed with wonderful fellow authors—Sarah Bird, Sherry Thomas, the other talented authors at Henery—who have been unstintingly generous with me in "showing me the ropes," answering questions, offering me the benefit of their experience. I have had "big-name" authors like Liz Tuccillo and Jenny Lawson graciously reach a hand back to help me, a virtual stranger. No one succeeds in a vacuum—when your time comes, reach out and offer a hand to someone else coming up behind you.
What is the best advice you have ever heard?
I say this in nearly every interview: The best advice I ever got was from multipublished, ridiculously talented author Sarah Bird, who told me long before I was published or even had an agent that the only thing separating her from all her unpublished-author friends was persistence. Over and over again I have found that to be the most important trait any writer can have. Persist in writing. Persist in querying. Persist in trying to get published, to market your book, to write another book…and another. There are so many people and reasons ready to convince you that you shouldn't—you have to be the #1 voice always reminding yourself that you should.
What are you reading now?
I just read Taylor Jenkins Reid's Maybe in Another Life recently and just Hoovered it up. I love her voice, her style, and the story—a woman makes one seemingly minor decision and then lives the two very different lives that result from each one in parallel story lines. It's so genius I wish I had done it–kind of like Sliding Doors, but her twist is that whatever choice you make could be the right one. That there is no one correct path—which I love.
What's next for you as a writer?
I have a new series I'm working on for my publisher, about a very nontraditional matchmaker and dating guru, plus a single-title women's fiction that has been awaiting a final edit for a while now while I scrambled to finish all the Breakup Doc books, and I'm eager to get back to it and get it out there.
If you were going to be stranded on a desert island and allowed to take 3 or 4 books with you what books would you bring?
This is like asking someone to pick her favorite child.
Books have been my escape, my salvation, and fuel for my imagination my whole
life, and various ones become dearest to me at various times. I find that I can
get obsessed with some of them for quite a while, and then put them away and
forget all about them for years, until I need them again. Again, like children.
(KIDDING, parents!)
Author Websites and Profiles
Phoebe Fox Website
Phoebe Fox Amazon Profile
Phoebe Fox's Social Media Links
Goodreads Profile
Facebook Profile
Twitter Account
Pinterest Account