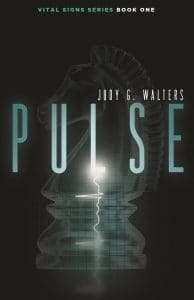 About PULSE by Judy G. Walters
Dive into Pulse, the first book of the Vital Signs Series, a gripping account of the ambiguous moral dilemmas in medicine— encompassing a unique yet riveting comparison between life and chess.
St. Mary's Hospital in Dallas, Texas has some of the best healthcare professionals in the world, but that success has come with a price. Each book within the series gives the reader a behind-the-scenes look at emergency medicine, with interesting cases and great insight into what makes the doctors and nurses tick.
The reader is injected right into the action, and faced with the moral dilemmas that healthcare professionals face every day.
Each book in the Vital Signs Series takes an intricate story and wraps it neatly around a game of chess. Even if you've never played chess before, this unique approach will be entertaining nonetheless! If you are a player, you'll detect how the moves and strategies of the game can often mimic life.
The message of PULSE is about staying true to oneself in the face of moral dilemmas and about looking beyond the masks people wear to discover what lies underneath. It is a tribute to the health care workers on the front lines in the COVID battle who must make their way through difficult moral dilemmas they are faced with on a daily basis, while making critical decisions that can result in life or death for patients.
Visit 64 Squares Publishing Company's website to download a free chapter.
Copyright 2021 by 64 Squares Publishing Company
ISBN 978-1-7363342-0-1
Buy the book, and follow the author on social media:
Learn more about the writer. Visit the Author's Website.
Buy the Book On Amazon.
Like the Authors Facebook Fan Page.
Follow On Twitter.
Follow On Instagram.

Author Bio:
Pulse was written by Judy Gaman and her husband, Dr. Walter Gaman, a physician, hence the name Judy G. Walters.
Judy Gaman is the CEO of Executive Medicine of Texas, an award-winning author of 5 books (awards include Amazon Best Seller, Benjamin Franklin Award, International Book Awards Finalist, and more), a public speaker and one of three podcast hosts of the Stay Young America! podcast, which emerged from a nationally syndicated, decades long radio show.
Drs. Mark Anderson and Walter Gaman are co-owners of world renowned Executive Medicine of Texas. They, along with health and wellness expert, Judy Gaman are award winning authors of several books, including Stay Young: 10 Proven Steps to Stay Young and Age to Perfection: How to Thrive to 100, Happy, Healthy, and Wise.
Judy is working on a children's book series based on Chess Island. The first book will be launching very soon! All books are interwoven with the comparison of the game of Chess to life.
Dr. Walter Gaman and Judy have 10 children and several grandchildren and reside in Southlake, Texas, where Judy was recently featured as one of ten most inspirational, accomplished and engaging women of Tarrant County.
She has been featured and recognized in numerous magazines and a wide variety of podcasts and is also a FOX News Radio Health and Wellness Advisor. She is currently producing a television series that spotlights CEOs and their journeys to the C-suite level as a mentorship to up and coming entrepreneurs who want to learn what it takes to make it to the top!
Judy's true passion is the hat she wears as an author and she will continue to write and publish books for years to come. She and Dr. Gaman are passionate about medicine, chess and helping others reach their full potential through health and wellness.
Contact Judy: judy@judygaman.com