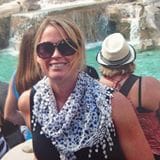 Tell us about yourself and how many books you have written.
I live in the mid-west countryside where my husband and I are raising our two boys. My life is crazy and chaotic but I wouldn't have it any other way. I am a running coach, personal trainer/group fitness instructor and a teacher. I have written one book, The "Shucking" Truth: Those Extra Pounds are NOT Your Fault! but currently have two more books in the works. I love anything health and fitness related and devour as many books and take as many classes as possible on these topics. I also enjoy being my own guinea pig (well sometimes, sometimes I'm just learning stuff the hard way) when it comes to applying what I have learned.
What is the name of your latest book and what inspired it?
My current book is called The "Shucking" Truth: Those Extra Pounds are NOT Your Fault!
I was inspired by the ladies I was working with, either in group fitness classes or one-on-one personal training. I feel like too often the weight problem in our society gets blamed on laziness when the true problem is diet. These ladies came to class and worked out consistently but would plateau on their weight loss. I knew it was their diet and wanted to help educate them on why what they were eating (even when they thought it was healthy) was actually doing them more harm than good. For those that have read it, it has made a huge difference and I love seeing the results.
Do you have any unusual writing habits?
I don't really have any unusual writing habits, but I do have a tendency to reward myself (way too often I might add) by taking a break and checking my social media accounts. It's something I need to work on doing less.
What authors, or books have influenced you?
William Dufty, Sugar Blues
Jordan Rubin, The Maker's Diet
Louise Hay. You Can Heal Your Life
Ori Hofmekler, The Warrior Diet
What are you working on now?
I am currently working on a cookbook (due to client demand) for the summer season called Seasons of Change: Learning to FLY One Season at a Time. The cookbook contains recipes focused on cooking healthy meals with seasonal summer foods. It contains enough meal plans and shopping lists to get a busy parent through the summer season without having to spend a lot of time on planning healthy meals for her family. I personally don't enjoy cooking all that much so it's designed for people that want to eat healthy but not spend all day in the kitchen. I am also working on a second book to follow up The "Shucking" Truth! It is called How to Lose Those Last Few Pounds.
What is your best method or website when it comes to promoting your books?
I am still learning and working on that. When I originally wrote the book, word of mouth locally drove sales but after that I really wasn't sure where to take it and so I quit trying to market my book. I am slowly trying out new things online, goodreads is my next venue to try out so we will see how it goes.
Do you have any advice for new authors?
Learn to market your book before you put it on the market!!! You can have a great book but if you don't know how to tell the world about it and drive sales, it really doesn't matter how good your book is.
What is the best advice you have ever heard?
It's more of a saying, but I try to keep it in my head at all times when making decisions, and that is "There is no pain worse than the pain of regret"
What are you reading now?
Currently I am re-reading YOU ARE WHAT YOU EAT by Dr. Gillian McKeith. I find it's always helpful for me to refresh on things I have already learned.
What's next for you as a writer?
I would like to focus on getting my next two books out there, I know it will help people to live healthier, happier lives, and isn't that what it's really all about?
What is your favorite book of all time?
Fiction: Gone with the Wind
Non-Fiction: I tend to have more of a favorite genre than one actual book and those are the self-help books. I feel like I always at least get a little nugget of useful wisdom from them.
Author Websites and Profiles
Rachel Shuck Website
Rachel Shuck Amazon Profile
Rachel Shuck's Social Media Links
Goodreads Profile
Facebook Profile
Twitter Account