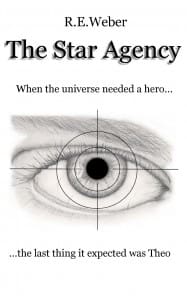 Tell us about yourself and how many books you have written.
I'm a 47 year old man, born and bred in Sheffield, England, but now living in Bedfordshire, England, with my wife. By day I am an IT Consultant, but in January this year I finally completed and published my first novel, a young adult eBook called 'The Star Agency', published on Amazon.
What is the name of your latest book and what inspired it?
My first and only novel is The Star Agency, an interstellar secret agent adventure aimed at readers aged 10 and upwards. It was inspired by my love of 80's science fiction movies and my love of pulp sci-fi in general.
Do you have any unusual writing habits?
To be honest, not really. I'm pretty regular guy and I don't have any odd habits or superstitions. I just sit in front of my PC and thrash it out.
What authors, or books have influenced you?
The books of Arthur.C.Clarke (the Space Odyssey & Rama series), Greg Bear, Ben Bova, Stephen Baxter – in particular the Manifold novels. Also the fantastic Harry Potter novels and the Alex Rider series by Anthony Horowitz.
What are you working on now?
I am in the advanced planning stages of the 2nd book in the Star Agency series. I also have outlines for two other possible novels.
What is your best method or website when it comes to promoting your books?
There are so many websites I use to promote my novel (especially on their free days) that there are too many to list here. But to name a few, BookGoodies & BookGoodiesKids, Pixel of Ink and (of course) Awesome Gang. I also tweet regularly and post on numerous Facebook sites.
Do you have any advice for new authors?
Stick with it. Writing a book is a long hard slog and there will be times when a particular plot point or story line isn't working. If that happens, take a step back and if necessary take a few days off. Better to take your time and get it right. It took me five years to write my first novel.
Also, find your own voice. Do not just jump on the latest bandwagon unless your truly believe you have a new twist on the genre. Be yourself, write the book you want to write and don't be afraid to take risks. Make your mark.
What is the best advice you have ever heard?
Read, Read, Read. Know your genre and your competition.
What are you reading now?
'Ash' by James Herbert. Such a sad loss now he's gone.
What's next for you as a writer?
To publish 'The Star Agency' on Smashwords and prepare a print version on CreateSpace. Also to continue working on my second novel.
What is your favorite book of all time?
It changes from year to year. One of most fondly remembered books of recent years is 'Time' by Stephen Baxter. I also love 'The Secret of Crickley Hall', by James Herbert and '2010' by Arthur C Clarke.
Author Websites and Profiles
Richard Weber Amazon Profile
Richard Weber Author Profile Other Bookseller
Richard Weber's Social Media Links
Facebook Profile
Twitter Account