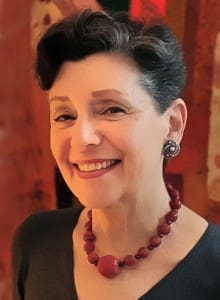 Tell us about yourself and how many books you have written.
I'm an author, teacher and interior designer. My writing practice includes fiction and non-fiction. My stories and essays have appeared in many literary journals including The Alaska Quarterly Review, The Iconoclast, The MacGuffin and Passager. I'm the author of the novel, Lily Steps Out (Penumbra Publishing, May 2012), and am at work on a second novel that follows some of the characters in Lily. My short story collection Alterations, was published by Penumbra in May 2013. I have lectured on the decorative arts at libraries throughout Long Island, at Hofstra University and CW Post-Hutton House and I'm the Coordinator of the Interior Design & Decorating Certificate at Queensborough Community College where I teach several courses in the program.
What is the name of your latest book and what inspired it?
Some of the stories in Alterations hark back fifty years to when I was a child growing up in Brooklyn, walking with my mother along 86th Street as she did her errands and talked to the shop keepers. These stories lived in me the way stories do, in the turn of a head, the inflection of a voice, a certain expression on someone's face, till I pulled them out and began to write them down.
Do you have any unusual writing habits?
If you can call sitting down at my lap top every day and clicking it on, unusual, then I'm unusual. I go over the writing from the day before, make changes—there are always changes—and from that piece of writing comes the next. I write and rewrite as I go along. I don't outline and I don't know where the plot is going when I start out. The plot comes from the writing itself. What I mean by that is, I don't write in my head, the story doesn't come to me full blown and then I put it down. Each sentence I write leads to the next and that's how the story reveals itself.
What authors, or books have influenced you?
Joyce Carol Oates, Margaret Attwood, Alice Monroe, Phillip Roth and T. Coraghessan Boyle are some of my favorite authors. I'm sure their influence is in my writing but I can't tell you where.
What are you working on now?
I'm working on finding an agent and/or publisher for my second novel Feminine Products, which follows some of the characters in Lily Steps Out, and which like Lily and many of my short stories has to do with family.
What is your best method or website when it comes to promoting your books?
Promoting my book is combination of methods. One is guest-posting and interviewing on blogs and websites such as Awesome Gang, another is arranging author talks at libraries and for organizations. I post all my news and upcoming events on my website and Facebook page. My most recent type of marketing is that Lily Steps Out has been released as an audio book through ACX.
Do you have any advice for new authors?
The best advise I can give is to keep writing. Authors get discouraged because it often takes so long and so many tries before a story or a novel is accepted, but they should keep at it. My first short story was rejected ninety-three times before a literary journal picked it up. It took me seven years to find a publisher for Lily. Sure, I felt bad about it, but I kept on writing. Writing and rewriting made me a better writer. And joining a writers' group was very helpful. We writers become attached to our words. They're our darlings and we cant bear to part with them. We need objective ears to tell us what's working in a story and what isn't.
What is the best advice you have ever heard?
The advise was something James Michener said about criticism. I'm paraphrasing here, but it was to the effect that if different people criticize different things about your writing, don't listen to any of them. If different folks all say the same thing about your writing, listen.
What are you reading now?
I'm reading Olive Kitteridge and I'm really enjoying it. She's not always likeable, and maybe that's what I like about her. She's interesting, and honest and never boring.
What's next for you as a writer?
I'm expanding on one of the stories in Alterations, "Love, Mona" which is the one about the little girl whose mother dies and her mother's friend who can't have a child of her own wants to adopt Frances. I'd like to follow Frances and Mona, and see what happens to them. I think there may be a novel in there.
What is your favorite book of all time?
I've read so many really great books, so that would hard to say. But I love books that go deep into character and their motivations. The work of Oates and Roth come to mind and also Harold Brodkey.
Author Websites and Profiles
Rita Plush Website
Rita Plush Amazon Profile
Rita Plush Author Profile on Smashwords
Rita Plush 's Social Media Links
Goodreads Profile