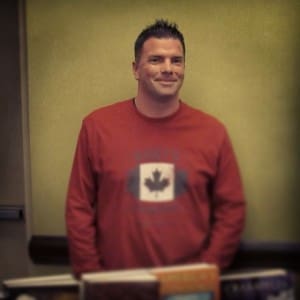 Tell us about yourself and how many books you have written.
I'm from Boston, Massachusetts and as we speak, I'm anxiously awaiting the summer months! I co-own a custom stainless steel design business, and in the midst of all the daily insanity that ensues, I somehow manage to write books as well. From 1996 to present date I've written six books. The genres range from music to thrillers, to children's books.
What is the name of your latest book and what inspired it?
My latest book is called "Left-Hand Path." It's inspired by everyday people who on the surface appear to be kind and harmless. On the inside, they all have an agenda of some sort. It's chilling to think that the strangers we encounter on a daily basis could be up to some rather evil behavior. It's even more chilling to think that the people we know are up to the same things.
Do you have any unusual writing habits?
I was just talking about this to someone the other day as a matter of fact. I work best in the early hours of the day, well before the phone calls, the depressing news reports, the daily interactions, etc..
When I'm writing, I always need music playing lightly. Not coming at me from the computer speakers and not from headphones. It has to be playing from behind me on my right side. I'm not sure if that's unusual, but there you have it.
What authors, or books have influenced you?
When I was in high school, I read "Less Than Zero" and "The Rules of Attraction" by Bret Easton Ellis. That's about all it took. I knew that one day I'd want to write disturbed and misguided characters the way he did. I was also, and still am, a big fan of H.G. Wells and Lois Duncan. I find myself blending all of their elements of suspense, philosophy and drama into my work.
What are you working on now?
I'm completing my upcoming novel "The Crooked Roads through Cedar Grove" for an early 2015 release. I'm recording a book soundtrack for said novel as well. I'm also working on my next children's book with my co-author Susan Saunders.
What is your best method or website when it comes to promoting your books?
I use social media to my advantage, usually Facebook and Twitter. I like directing potential readers to my website http://www.robwattsonline.com
My best method for promoting my work is via book signings and readings. Writers can only sit behind the computer for so long. They need to get out there and meet their potential new fans. Posting links to their book all day long just doesn't cut it.
Do you have any advice for new authors?
Yes, make sure you have a job. A job that you enjoy and one that pays your bills. The money isn't going to come rolling in once you publish your first book. The term starving artist isn't appealing and I've seen far too many aspiring authors fall into this trap. Join a local writers group or organization. Network with other authors and ask questions. Attend a book reading at a local library or bookstore. Learn from authors who've been around the block a few times. Most important, be your own writer. Learn from your inspirations, but make the story your own.
What is the best advice you have ever heard?
Back in 1995, I attended a reading by author Martin Espada. He was kind enough to say "Don't be afraid, just write it. If you are passionate about it, you'll make it happen."
What are you reading now?
Believe it or not, I'm reading a book called "500 Cheeses." I'm very much a foodie.
What's next for you as a writer?
I'm always looking for the next big challenge. I've been writing fiction for a while now. I'd like to dive into non-fiction within the next year or two. I've gained some substantial knowledge on one or two topics over the years, and I think they might be of interest to readers. We'll see.
If you were going to be stranded on a desert island and allowed to take 3 or 4 books with you what books would you bring?
Off the top of my head, I'd probably want to have "101 Things I Learned In Architecture School", "1000 Places to See in The USA and Canada", "Waking Up In Iceland", and probably "A Survival Guide if You're Ever Standed on a Deserted Island."
Author Websites and Profiles
Rob Watts Website
Rob Watts's Social Media Links
Facebook Profile
Twitter Account