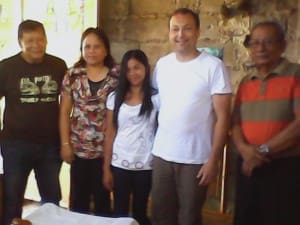 Tell us about yourself and how many books you have written.
I am an author from Toronto, Ontario, Canada. I am forty three years old and I have six manuscripts at this time. Some of my books are fiction while others are memoirs of self help books. I enjoy writing but what I enjoy most is when someone buys one of my books and finds something of worth or something that causes them to think in different way. I like reaching out and touching people.
I was educated at Alberta Bible College in my twenties. I have led a very interesting life. I have worked as a ski coach and there was a time when I skied a hundred days a season. I also worked as a bus driver all over Canada and the States. I worked as a business man and a salesman.
I have four children from my first marriage. I have not seen them in four years because of a prolonged battle over custody and visitation. This colors most of my books in some way. I miss my kids every day.
I currently live in the Philippines with my new bride of two years and we have a step son together. I have started a charity to help girls free themselves from sexual slavery, something that is all to common in this poor Country. You can find this charity online at gofundme.com and search under "saving girls from sexual slavery".
I am a devout Catholic but I am also open to other denominations and theological views. My faith is often found in my writing but I try to keep it non preachy and enjoyable for all. Thanks for reading and God bless all.
What is the name of your latest book and what inspired it?
My latest book is called "Isla ni Kristo (coming home)". It is the story of a small town preacher who finds some books, diaries, a detailed family tree going all the way back to the first century and a map leading to long forgotten and mysterious island. He decides to set out on a sea journey of discovery. He faces danger in the form of a group of evil fishermen who have enslaved his true love. He overcomes them and continues on to the island. When he finally get there he is greeted by wondrous things that change him forever. He is reunited with the family he never knew he had and meets all his ancestors. It is a very happy ending. This book was inspired by my deep love for all my children and it is dedicated to them. Each one of them is a character in the story line and I hope I have honored them in this way.
Do you have any unusual writing habits?
I write mostly at night and I sleep during the day. It is cool at night and my thoughts come easily in the silence.
What authors, or books have influenced you?
The Bible is my greatest influence. After that all of C.S. Lewis's writing from the beginning to the end of his life have greatly inspired me. I also enjoyed the book called the shack although I cannot remember the authors name. I have read too many books from too many genres to list them here. I am an avid reader.
What are you working on now?
I just finished a book about fathers and daughters. It deals with all the topics that come up when our girls start to come of age. It is pretty frank and open and maybe even shocking to some, it does not shy away from the taboo subjects but it does so from a Biblical perspective.
What is your best method or website when it comes to promoting your books?
I have a website. It is mccrabbo.wix.com/r-b-mccrabb. I have a blog and all my books can be found on Amazon.com or Amazon.ca. The best promotion for my books is word of mouth and I put them on amazon for free on a regular basis to build a platform of dedicated readers.
Do you have any advice for new authors?
Stick at it. If you enjoy writing, do it, no matter what. Do not expect success or a readership overnight. It takes years and honestly the better the writing, the longer it might take for it to be appreciated. Just like some famous painters who were not appreciated until after their death, many great artists in every form can face this.
What is the best advice you have ever heard?
With God anything is possible. Or if God be for us then who can be against us.
What are you reading now?
I just read a book called "the girl on the train."
What's next for you as a writer?
My next book, even though I do not know what it will be about yet.
If you were going to be stranded on a desert island and allowed to take 3 or 4 books with you what books would you bring?
The bible
Real Christianity
Author Websites and Profiles
Robert Benjamin Mccrabb Website
Robert Benjamin Mccrabb Amazon Profile
Robert Benjamin Mccrabb's Social Media Links
Facebook Profile