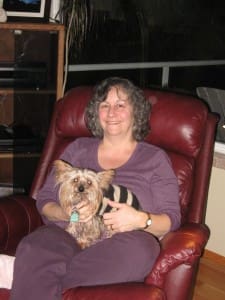 Tell us about yourself and how many books you have written.
I started writing when I was in second grade. If I count all the "books" I wrote since then it would be LOTS. And my mom even saved a bunch of them (ha ha). When I got back into writing as an adult, I started by working on both novels as well as short stories and essays. If I got frustrated or bored with one, I could switch to something else.
The first thing I had published was a short essay in a book about first-year teachers. Then I entered a short story contest for a Ray Bradbury anthology and won and got my story published in the anthology. The book is called "Body Smith 401 and other stories". My story was called, "The Return".
During that time was still working on novels. I finally finished "Run Away Home" and self published it on Amazon last August. It received really good reviews so I entered it in the Amazon Breakthrough Novel Award Contest. It made it all the way through the quarter-final round and got a super great review from Publishers Weekly! Super exciting!
What is the name of your latest book and what inspired it?
The book I am working on right now is called "All We Are" and I actually got the idea one day when I was donating blood. I was sitting in the chair, looking around the room, and I started wondering what it would be like if donating wasn't something people did voluntarily, but instead were forced to do. And then I started wondering what would happen if it wasn't just blood, plasma or platelets, but what if people were FORCED to donate other things? Or participate in clinical research trials? And what kind of society would we live in where this might happen? The title comes from a conversation Kinley has with her boyfriend when she is beginning to discover more about the society they live in.
Do you have any unusual writing habits?
Well, I don't know if they're unusual or not. I do know that I ABSOLUTELY cannot write on the computer. It's like my brain goes into hibernation or something and all the creative ideas just disappear. So I write in notebooks with a special pen and then I type everything up later. It does take longer, I'm sure, but it's the only way I can write.
What authors, or books have influenced you?
I love so many authors. In the adult realm, I adore Maeve Binchy, Torey Hayden, Kristin Hannah, Ann Tyler and many others. In Young Adult, my current favorites are Veronica Roth, Colleen Hoover, Suzanne Collins (loved her even before the Hunger Games), and Ally Condie.
What are you working on now?
Still working on "All We Are". I finished it a few months ago, but am basically rewriting the whole thing as I changed several major plot points. So I still have a ways to go.
What is your best method or website when it comes to promoting your books?
I really don't know. I haven't done much marketing and I'm hoping to find some good ideas out there!
Do you have any advice for new authors?
Just keep writing. The more you write, the better you get (it's like practicing the piano).
What is the best advice you have ever heard?
Be mean to your characters! It's so true. New writers often have trouble being mean to their characters (I know I did). But if nothing bad happens to them, then you don't really have a story.
What are you reading now?
Just finished Slammed and am looking forward to reading the next book in the series (Point of Retreat). I am also reading Unpredictable and Sister of My Heart. I tend to read several books at one time (Kindles are great).
What's next for you as a writer?
Finishing up "All We Are" and trying to find a publisher for it. And then I'm going to go back and take a look at some novels I wrote a few years ago and see if any of them call out to be reworked. If not, I have lots of ideas for new stories so I'll just start another one!
What is your favorite book of all time?
This question is too difficult! I love so many books…..but if I had to pick a favorite, it would probably be one of Torey Hayden's books. I just reread those over and over and have for years. One Child, or Tiger's Child, or any of her other ones. They're all great.
Author Websites and Profiles
Robin Amada Tzucker Website
Robin Amada Tzucker Amazon Profile
Robin Amada Tzucker's Social Media Links
Goodreads Profile