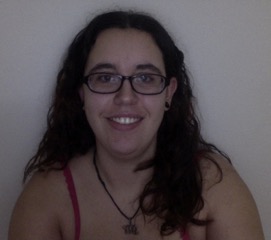 Tell us about yourself and how many books you have written.
I am a single mom of a three year old girl. I have published one novella so far, but am working on my first full length novel now.
What is the name of your latest book and what inspired it?
Love and Self Discovery is my novella. I wrote it for a creative writing class in college. It's inspired by my life and why I waited until I was 24 to come out as pansexual to my parents. This story is how I expected my family to react. Luckily for me, I was wrong.
Do you have any unusual writing habits?
Not really. I try to write 1000 words per day, which seems to be pretty average.
What authors, or books have influenced you?
I absolutely love Stephen King, although I don't write in the same genre as him.
What are you working on now?
I am working on a novel about a vampyre/faerie hybrid who falls in love with a human and tries to protect him from her past.
What is your best method or website when it comes to promoting your books?
I've found that Goodreads seems to give me the most connection with people and has helped me to get people to read and review my book.
Do you have any advice for new authors?
Read a lot, write a lot. (To quote Stephen King, also, reading his book On Writing is probably a good idea).
What is the best advice you have ever heard?
Write every day, even if it's not good. You can always go back and make it better, but you have to get the idea down first.
What are you reading now?
Moxie's Decision by Hank Quense
What's next for you as a writer?
I'm hoping to finish and publish my novel by the end of the year and am thinking of writing a sequel to it as well.
If you were going to be stranded on a desert island and allowed to take 3 or 4 books with you what books would you bring?
-On Writing by Stephen King
-The Complete Tales and Poems of Edgar Allen Poe
-The Bible (I'd finally have the time to actually read it)
-The handbook that came with my tarot cards (I'd probably be doing a lot of tarot readings for myself)
Author Websites and Profiles
Samantha Fischer Website
Samantha Fischer Amazon Profile
Samantha Fischer's Social Media Links
Goodreads Profile
Facebook Profile
Twitter Account