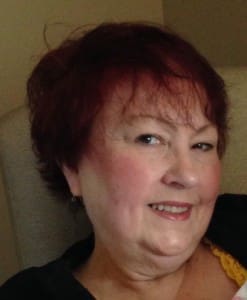 Tell us about yourself and how many books you have written.
I was first published in 1994 for Animals' Voice Magazine. My love for animals and expertise in writing animal stories awarded me the honor of featured writer in the Pets Across America book series on Amazon in 2009 and 2011. I contributed to a Christian book series from Good Catch Publishing in 2007 and was published online in two romance fiction websites, Romantic Shorts (2011) and Adventures of the Average Woman (2006).
My newest book series entitled Rubies – Escaping the Curse is a four book family saga which originated from the story of my own grandmother's journey from Norway to America in 1913.
What is the name of your latest book and what inspired it?
Rubies – Escaping the Curse is based on the real life story of my own grandmother who sought a new life in America in 1913. Kaja Ericsen was a real person with a story that turned to tragedy. She was so determined to start a new life; she left her two daughters in Norway fully intending to return for them one day. She never saw her children again and became consumed with bitterness until the day she died.
Her story is tragic but also uplifting as it portrays the determination of one woman to make a future for her family in spite of adversity, causing her descendants to find the true meaning of unconditional love.
Do you have any unusual writing habits?
I keep a notepad by my bedside and often awaken in the middle of the night with a story idea. It is then when I do my greatest work. If I am out and about without a writing tablet and I get an idea I quickly enter it on my phone's Microsoft Word via microphone.
What authors, or books have influenced you?
Years ago I read many romance novels of Joanna Lindsey and laughed at her wonderful humor. I am very into memoir writing and reading. The book entitled, The Glass Castle by Jeannette Walls, was of particular inspiration to me as I am also working on a memoir of my own.
I believe most good fiction evolves from real life. Everyone has a story to tell and every good plan begins with story.
What are you working on now?
I am working on a memoir of my own life and death experience with a rare cerebral vascular disease that took 20 years to diagnose. The journey was more than memorable.
I am also writing a story revolving around mental illness, drug and alcohol abuse and how lives can be affected by the consequences.
What is your best method or website when it comes to promoting your books?
My current books are promoted on my website: http://www.letcopyhoundtellyourstory.com
Do you have any advice for new authors?
Write everyday, even if you don't want to. Don't give up on yourself. Accept constructive criticism for what it is meant to be and ignore complainers. Avoid people who try to turn off your creative juices. Take a negative statement about your work and find a way to turn it into a positive. We can all improve every day of our lives.
What is the best advice you have ever heard?
Be very careful of the choices you make during your life as you and those you love with have to live with the consequences of your actions.
What are you reading now?
Right now I have been reading so many self help books which are great, I've just picked up a Romance Novel by Christine Feehan. It takes the mind off reality and puts life in a fantasy world. We all need some fantasy in our lives to keep the world's negative vibrations from tearing us down. My Kindle Library includes a memoir by Billy Crystal- Still Foolin em; Think and Grow Rich; Pebbles in The Pond; Publish for Profit; Covering of Feathers; Greenland Diaries; Book Marketing and the list could go on and on.
What's next for you as a writer?
I will always continue writing even though it may only be with pen and paper. I am working to build my own business helping others tell their story whether it be via a book or website.
Writing is greatest thing I do with the exception of loving my three beautiful granddaughters.
I am known as the Work at Home Grandma and I love every minute of helping others to achieve their dreams.
If you were going to be stranded on a desert island and allowed to take 3 or 4 books with you what books would you bring?
The Bible
Websters Dictionary and Thesaurus
On Writing Well by William Zinsser
A favorite memoir or autobiography
Author Websites and Profiles
Sandra Eastman Website
Sandra Eastman Amazon Profile
Sandra Eastman's Social Media Links
Goodreads Profile
Facebook Profile
Twitter Account
Pinterest Account