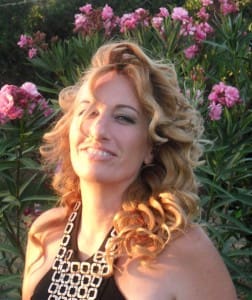 Tell us about yourself and how many books you have written.
I think I am a bit of a gypsy, a nomad. British by birth, international in my heart, I am not entirely sure where I live, not permanently that's certain.
I was living in Greece at the time when the severity of the Greek economic situation hit. I had a holiday letting business built up over the previous seven years, which dried up over night. One day income was normal, the day after the riots were shown on TV worldwide I was in trouble, no money and no future.
My primary thought was to ensure stability for my daughters GCSE years and so the decision was made to return to England and re-start the psychotherapy practice that I had left behind.
As I was packing a story came to me. "The Illegal Gardener."
I had never written before.
In fact I am dyslexic and have incredible tactics to avoid putting pen to paper. I offered the story line to a writer friend who simply said write it yourself.
Six weeks later the book was finished and published and sales were immediately through the roof. I continued with the move back to England unsure if the level of sales of "The Illegal Gardener" was flash in the pan.
That was July of 2012 and since then I have written a series of four books all of which are receiving incredible reviews and are selling better than I could have ever imagined. The fifth is in progress. The psychotherapy practice had not be set up as, since the first book was publish, I have been writing full time.
I now have the luxury of dividing my time between England and Greece.
What is the name of your latest book and what inspired it?
I have just published book four in The Greek Village series, "The Gypsy's Dream" and it has already reach number 27 in Literary Fiction on Amazon.co.uk.
Each book in the series follows a different person from the same greek village, so each time you return to a familiar setting, the warm sun, but a fresh story line, a new character to discover.
The Gypsy's Dream see's a young girl from England mistakenly turning up in the village having taken the wrong boat whilst trying to get to the island where she had lined up a job. She has not budgeted for a detour and she is now in the village without even enough money for food let alone to find her way to her true destination.
The inspiration was my own life, my first visit to Greece was on holiday. I returned home after the week was up only to walk through the pouring rain, from the bus to the travel agents and book a return ticket back the very next day. This time staying, finding a job, renting a flat and making Greece my home.
With no Greek and, initially, no friends it was a crazy and uncertain way to live but the Greek people reached out at every turn, there kindness made all physical hardships pale into insignificance. Their kindness is my inspiration.
Do you have any unusual writing habits?
When I am not lost in the act of writing, the next books story line come unbidden into my head and I get so excited about what is to come I am driven every day.
I am currently writing book five of The Greek Village series, working title "The Art of Being Homeless".
But when I am not working on this my mind is taken up with a new idea. I have just returned from Nepal and a story line has come home with me about the Gurkha's, their families, their children. Every minute not writing book five I am researching Gurkha life at the moment.
It makes for very exciting days that do not have enough hours in them.
What authors, or books have influenced you?
Being dyslexic I am not as widely read as I would like. I have tended towards the classics. As a child, living for some time in Yorkshire, I knew the moors well and I grew up reading the Bronte sisters and immersed myself in their passion.
Thomas Hardy became the next obsession, his focus was a different moor but he drew me in with his capacity to put you in the moment, see the surrounds, hooking me.
As I became more worldy I was very sad when I realised I had read all Antony Trollop had written, his humour cannot be surpassed, so British.
Now I will read any genre but I do not hesitate to put a book down unfinished if it does not grab me, there are so many authors to be discovers, books to be read, there is no point in taking time to finished something you do not love.
Books that have stood out to me in the last few years – How to be a Woman by Caitlin Moran , I am the Cheese by Robert Cormier and The Remains of the Day by Kazuo Ishiguro. I am sure there are more but these are the ones that come to mind.
What are you working on now?
I am currently working on Book five of The Greek Village series, working title "The Art of Being Homeless", which has a plot very close to my own heart.
Michelle, just about to turn fifty, has worked in one profession all her life meets up with a boy who does not wish to see his youth pass by as he sits day after day in his first office job. They are travelling to the village together, she to meet her friend who lives there, hoping for some advice on her threatened career, he to face his father to tell him he has walked out of his job. They have much to learn from one another but a chance event creates ripples neither expected.
What is your best method or website when it comes to promoting your books?
Apart from Amazon I have made some great friends on Facebook who seem to enjoy the series. It is not an 'author' page, it is a personal page that anyone who wants to become my 'friend' only has to ask. We talk about each others holidays, we share pictures of Greece. My 'friends' there are my backbone and I am grateful to know them.
If I had more time I could find more ways to promote my books, but it is catch twenty two (another good book) if I am promoting I am not writing and if I do not write I have nothing to promote.
The result is this gives me my excuse to spend very little time marketing but all my days writing.
Do you have any advice for new authors?
"See it as a job". Do not get too precious about what you have written, take the feed back seriously but not personally, use it to improve yourself but not to upset yourself.
Get yourself a good cover, it is what attracts the reader initially and always look to the next book you will write rather than hanging onto the last one as an object too precious, of which to let go. Once it is in the public domain it is no longer "your book", it is the readers book.
What is the best advice you have ever heard?
Take the time to meditate twenty minutes a day – if you cannot find twenty minutes then you need to mediate for a hour to work out why not. (Meditate = think, reflect, ponder.)
What are you reading now?
I am reading a few books. Thurdays in the Park by Hilary Boyd, The Crimson Petal and The White by Michel Faber, One Minus One by Ruth Doan MacDougall and Nancy Pearl and Write Compelling Fiction by L.J.Martin.
What's next for you as a writer?
I am very keen to begin the first of two books about the wives of the Gurkha's. I have just returned from Nepal where I have a friend who is a lawyer for the Gurkha's and he introduced me to some very interesting people. Gurkhas, their families, all have a tale to tell, a life beyond our imaginations, a rural way of living that I thought was all but gone.
What happens when a retired Gurkha decides to move to England and can only take one wife? Which does he take, wife one, two or three? How do the other wives feel? What happens to the children? Will he missed Nepal, his old life?
It is going to be a passionate book about human resilience – we are extraordinary beings.
What is your favorite book of all time?
This is a tough one. The book I have read the most times is Wuthering Heights, it says so much about the complexity of human nature.
Remains of the Day blew me away and still comes to mind as a favourite. Again it is reflective and observant.
But then so too are A Picture of Dorian Grey and One Day in the Life of Ivan Denisovich.
Nope, sorry, I cannot pin it down to one. Oh yes I can – it is the one I am going to write next – always!
Author Websites and Profiles
Sara Alexi Website
Sara Alexi Amazon Profile
Sara Alexi's Social Media Links
Goodreads Profile
Facebook Profile
Twitter Account