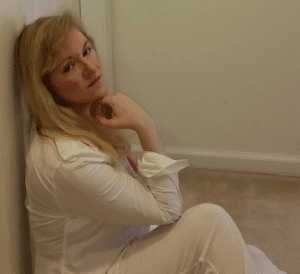 Tell us about yourself and how many books you have written.
Born in the midwest and raised in the south I'm a country girl through and through. I'm most comfortable hiking through the woods or just sitting outdoors. I've been creating stories and writing since I can remember; it's more a part of who I am than it ever was a decision to become a writer.
I gravitate to anything creative and if one word could describe me it would be: eclectic. There's too much out there to limit myself to just a few areas and my mp3 player is always on "random".
I've written four books so far, one small poetry volume that is free through most retailers including Apple, Smashwords, and Amazon, and the Costly Obsession Trilogy -Animalize, Decay, and Unleashed.
What is the name of your latest book and what inspired it?
From Darkness- Aging rocker Bane Bronson never thought his trip through Hell itself would turn out to be the easy part.
Inspired by a single question. 'What would it take to reach a man like Bronson?'
Do you have any unusual writing habits?
I usually get my creative burst between midnight and 2 a.m.; very inconvenient. I start off with writing down the idea whether it's a sentence or a couple of dozen detailed pages. I have a favorite cheap mechanical pencil that fits my hand and I stock up on 5 cent spiral notebooks in the fall. I write the rough draft on paper the hard way using a few shortcut terms I've developed over time. After that I transfer it over to my computer taking the opportunity to give it what I call the Hollywood treatment (I inject collagen here and lipo fat there). Then it gets printed. There's something about having that hard copy in my hands that helps me focus and I break out my pen or pencil and begin to edit once more. I do this at least two or three times looking for errors, details and to check the over all flow of the story. Wash, rinse, repeat until I can't look at it anymore and then do it again.
What authors, or books have influenced you?
Everything I read good or bad. Like life I get more help from learning what I don't like than what I do.
What are you working on now?
From Darkness. It started as a horror novel, one mans experience going through Hell, but like many stories it's taken on a new life and genre. Now it's more of an inspirational novel focusing on redemption and how we try to handle too much on our own. Usually we end up wearing ourselves down and the once great change we were sure was the best thing that ever happened to us has turned into our downfall leading to nothing but pain and anguish; until we let go that is.
What is your best method or website when it comes to promoting your books?
I've been so focused on finishing my Costly Obsession Trilogy that promotion was almost a foreign concept. Needles to say I'm new to the whole thing and still learning.
Do you have any advice for new authors?
Don't try to pattern yourself after someone else, working how they work or mimicking their process. Find out what works for you, experiment. Just because one author gets up at 6 a.m and locks themselves into their room until they have 20,000 words down doesn't mean that will do for you. Try a little bit of everything, keep what shoes fit and donate the rest.
What is the best advice you have ever heard?
Writing a book doesn't stop when you've published it (I'm speaking of self publishing), that's only the first part. Marketing/promotion is just as important as the book itself; at least until you get a major following. Even then it's always a part of the process.
What are you reading now?
Yikes! On any given week it's entirely possible for me to have at least a dozen or so books open. I can say that I just recently finished the Iron Fey series by Julie Kagawa and I'm reading some Ted Dekker, Michael Crichton, Austen, Shakespeare, Dickens and other classics.
What's next for you as a writer?
After I finish From Darkness I have a binder filled with over 120 more story idea so I'll be very busy (thankfully) for a long long time.
If you were going to be stranded on a desert island and allowed to take 3 or 4 books with you what books would you bring?
The Bible- it's like every genre rolled into one
Mansfield Park- Jane Austen
The Chronicles of Narnia- C.S. Lewis
Author Websites and Profiles
Sasha Pruett Website
Sasha Pruett Amazon Profile
Sasha Pruett Author Profile on Smashwords
Sasha Pruett's Social Media Links
Goodreads Profile
Facebook Profile
Twitter Account