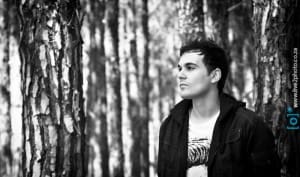 Tell us about yourself and how many books you have written.
Hello! My name is Sergio. I am a 28-year-old writer from Johannesburg, South Africa. I watch too much football, swear at Candy Crush, and enjoy the finer things in life, such as Ghost Pops and Cherry Coke. I have written 3 novels, 1 novella, 4 short stories, and half a dozen one pagers.
What is the name of your latest book and what inspired it?
My latest project is titled "Don't Steal from the Devil." It's a paranormal horror story that deals with the theme of demonic possession, but throws another horror into the mix: housebreaking.
I've been keen to tackle a paranormal horror story for a while now, and this one just popped into my head one day. I know – it is such a boring inspirational story…
Do you have any unusual writing habits?
Well, I generally can't write more than 300 words in one sitting. I will need to get up, drink a glass of Coke, and then come back to write the next 300. I'm certain that I cursed by the spirit of 300.
What authors, or books have influenced you?
Roald Dahl is the sole reason I decided to become a writer. He just knew how to paint a picture in a child's mind that would last a lifetime. I'm thinking of changing my name to Roald in tribute. Okay, I'm just kidding. Or maybe not…
What are you working on now?
Recently, I completed two short stories, and I'm now delving into a children's story, which I hope to complete by April. I'm about 4 chapters into the story, with the rest outlined, so I reckon I should achieve my goal.
What is your best method or website when it comes to promoting your books?
The word of mouth is still the strongest marketing technique, but I'm also comfortable approaching sites and magazines for press opportunities. Plus, there's also media. I find that a combination of all these techniques work for me.
Do you have any advice for new authors?
Yes, I do.
It's a rat race out there, with everyone trying to promote their own work, but ignoring everyone else's. Ultimately, it just turns into a glorious spam-fest with no absolutely soul.
My advice is: Take an interest in other writers' books and aim to build a community. Be more personable and supportive of each other. We all have dreams, and it isn't too difficult to just offer a kind work, or help out another author by purchasing his/her book. In other words, don't be a self-entitled idiot.
What is the best advice you have ever heard?
Be humble and never stop learning.
What are you reading now?
At the moment, I'm reading Richard Kadrey's Sandman Slim. Great book!
What's next for you as a writer?
Survival. Isn't that the most important thing?
If you were going to be stranded on a desert island and allowed to take 3 or 4 books with you what books would you bring?
"Matilda" by Roald Dahl
"Good Omens" by Terry Pratchett and Neil Gaiman
"Fear and Loathing in Las Vegas" by Hunter S. Thompson
"Fight Club" by Chuck Palahniuk
Author Websites and Profiles
Sergio Pereira Website
Sergio Pereira Amazon Profile
Sergio Pereira's Social Media Links
Goodreads Profile
Facebook Profile
Twitter Account