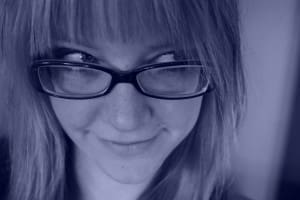 Tell us about yourself and how many books you have written.
I have been writing since as long as I can remember, and always assumed everyone loved to write as much as I did. I was surprised to find out that wasn't true. I never considered writing as a job for the longest time because it was so much a part of who I was…how in the world do you make that a job? As a newlywed, I was freelancing for print and online magazines. The direction of life changed when kids came along and I took a break. Now the kids are older so I have more time to get back to writing. I currently write under two names – Shay Ray is the fun fiction side of non-fiction author Amy Dingmann.
What is the name of your latest book and what inspired it?
My latest book is called Lost: One Pair of Rose Colored Glasses. It's a humorous romance novella about a newlywed couple's first year of marriage and all the glorious discoveries they make about each other after the rose colored glasses of dating come off. I have yet to claim or deny which parts were inspired from real life experience.
Do you have any unusual writing habits?
I am a morning person. I have a date at 5 am every morning with a strong, dark pot of coffee and my laptop. And although I prefer to write on my laptop, I can't think through edits or re-writes on it. I consider little purse-sized notebooks to be my security blankets. I get the shakes if I'm more than three feet from a pen and something I could potentially write on.
What authors, or books have influenced you?
I think Stephen King's book On Writing was the most influential book I've ever read. It was the first time I read a book and said "I totally GET that", which was pretty powerful.
What are you working on now?
The sequel to "Lost" should be out next month (May 2013). It is called Found: One Craving for Everything and follows the same couple as they experience their first pregnancy. Again, I will neither claim nor deny which parts were inspired by real life. 😉
What is your best method or website when it comes to promoting your books?
I find the most luck with Facebook. I've tried many methods but I find that most traffic for my things comes from Facebook – I guess it's the place to be. 🙂
Do you have any advice for new authors?
Be honest enough with yourself to know if and when the book is ready. When it is, LET IT GO.
What is the best advice you have ever heard?
There's a difference between wanting to write a book and writing a book. One means you're daydreaming, the other means you actually apply your butt to a chair and get it done.
What are you reading now?
Consequences by Aleatha Romig
What's next for you as a writer?
After the release of Found: One Craving for Everything next month, I have two more books in the Lost and Found series planned for 2014. Amy has some other things coming up late 2013 as well.
What is your favorite book of all time?
Me and Emma by Elizabeth Flock or Angus, Thongs, and Full Frontal Snogging by Louise Rennison
Author Websites and Profiles
Shay Ray Stevens Amazon Profile
Shay Ray Stevens's Social Media Links
Facebook Profile
---
Author Interview Series
To discover a new author, check out our Featured Authors page. We have some of the best authors around. They are just waiting for you to discover them. If you enjoyed this writer's interview feel free to share it using the buttons below. Sharing is caring!
If you are an author and want to be interviewed just fill out out Author Interview page. After submitting we will send it out in our newsletters and social media channels that are filled with readers looking to discover new books to read.
If you are looking for a new book to read check out our Featured Books Page.