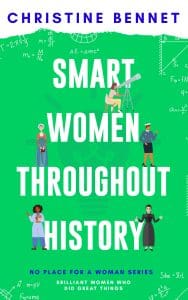 About Smart Women Throughout History: Brilliant Women Who Did Great Things by Christine Bennet
Unappreciated for her genius. Overlooked because she is female. Discover the unfathomable changes these women made to the world, broke down barriers and inspired others.
Ever wonder who discovered WIFI? What was it like for women who were just supposed to be pretty and get married? Be inspired by the women who were so passionate about what they did and let nothing get in their way.
When Christine Bennet taught History and English in schools, she found it necessary to include many of these remarkable women who got overlooked in the textbooks.
Women were supposed to be subservient wives and child bearers throughout the ages. They had to rely on their husband to provide for them and they were not to be educated or allowed to follow their passion. We see even as time goes on, women are still having to fight for their place in society and for equality. From sisters discovering planets, writers commenting on society, nurses creating home security systems, doctors defying the expected norms of society, to an actress who refused to just be a "pretty face". Now, look back through history and discover these inspirational women who were trailblazers of their time.
Discover these resourceful women and their clever innovations, ideas and discoveries:
• The persistent fight of Rebecca Lee Crumpler against racism and sexism.
• Discover the ingenuity of Marie Van Brittan Brown to ensure she kept her home secure.
• The strength of Maria Montessori and her fight for education.
• Unlock the imagination and talent of Beatrix Potter.
• Marvel at the intelligence and dedication of Grace Hopper.
….and many more incredible stories of women who broke the mold.
Smart Women Throughout History is a fascinating collection of biographical stories of women who found solutions to challenges. If you like inspiring tales of new discoveries, inventions and new ideas whist overcoming adversities, then you'll love Christine Bennet's uplifting read.
Now is the time to buy Smart Women Throughout History to follow the footsteps of legendary ladies.
** SPECIAL FREE OFFER 26th – 28th March **
Buy the book, and follow the author on social media:
Learn more about the writer. Visit the Author's Website.
Like the Authors Facebook Fan Page.

Author Bio:
Christine Bennet was originally an English and History teacher. While Christine loved to share stories and educate her students, she left teaching to focus on writing. She has always wanted to write a book about some of the topics she taught at school.
"There are so many women in history who have either been forgotten or never highlighted for the amazing things that they achieved. I find it a fascinating area to write within." Christine Bennet
No Place For A Woman is Christine's first non-fiction book series. The series focuses on inspirational and strong women who made history in different areas of life.
When Christine is not writing, she loves to spend time in her garden and has a healthy veggie patch. Her pets are very dear to her and follow her around her home, whether she is inside or out. She of course loves reading whether it be non-fiction or fiction.
To find out more about what Christine is up to or to get notified when Christine's books are released, please sign up for her newsletter at her website. While there, make sure you get your bonus novelette, Badass Cowgirls and The Lady Bushranger. An intriguing and fun look at outlaws with spirit, as my editor said "These chapters were a blast".