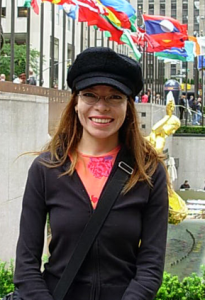 Interview With Author Sophie Lipton
Tell us about yourself and how many books you have written.
As many other writers, I started writing stories at a very early age. By high school, I was already writing short stories and novellas in folios that were passed from hand to hand. It was only during College that I realized I could actually write formally, when I had several articles published in student newspapers. Soof after that, I had articles published by actual paid newspapers, and I haven't stopped ever since.
In 2021, after a warm reception on Inkitt, I took a leap of faith and published my first fiction book, the middle grade adventure novel "Sarah and the House of Mysteries". I'm currently preparing the release of my second fiction book, "The Last Tree", and in the meantime I continue to collaborate with magazines and newspapers, and continue to write for the bilingual blog, "A Curious Culturalist".
What is the name of your latest book and what inspired it?
My latest book, "The Last Tree" (coming out in July!) is a science fiction Young Adult novel, and it was inspired by the severe climate crisis affecting us right now. It sparked from the thought: 'How would our future heirs perceive our present ecocides?'. Although the initial premise seems pessimistic – Earth is only a memory -, its message is not only positive but also uplifting. And in addition to dealing with ecological subjects, "The Last Tree" also deals with other relevant topics such as the importance of trust and friendship, and the value of being different.
Do you have any unusual writing habits?
I'm ADD, so I write each new story in no particular order – bits here and there, regardless of whether the actions happened first or later. I write all the scenes in a notebook, and then I transcribe them. My notes are full of arrows and asterisks, marking how each scene connects with others, or where I need to add more material! It sounds chaotic, but I have a method to my madness, and since I'm a plotter, I find it easier to navigate this maze.
What authors, or books have influenced you?
I believe that, as writers and readers, we all have been influenced since our earliest books, whether we remember them or not. I can't honestly name the book that inspired me to become a writer, because it was not a famous book or author, and it was lost during a move a long time ago, but since then I've found many other books and authors that have enriched my literary universe. To name some names: Enid Blyton, William Shakespeare, Neil Gaiman, J.K. Rowling, Umberto Eco, Dodie Smith, Garth Nix, Mary Luke, George R.R. Martin, and many, many others!
What are you working on now?
I'm preparing to launch my latest YA novel, "The Last Tree", out in July 2023 (fingers crossed!).
What is your best method or website when it comes to promoting your books?
I must admit I'm still finding my way around it. What I find awesome is the diversity of channels and media available to help writers, which did not exist at all when I started on my writing journey (in those SAE days), like Awesome Gang! Social media offers a great platform for exposure and reach to potential readers, as well as online literary magazines, societies, helpful websites, writing groups, etc. I try to mix a bit of digital and traditional marketing, targeting libraries, bookstores and book fairs. However, it's easy to become overwhelmed in the promotional effort, and in the end we writers want to focus on our writing, not marketing.
Do you have any advice for new authors?
I'm rather new to the author scene myself, so I may not be the most adequate to give advice, but if I could give any advice to my 2021-self, it would be: "Plan well ahead, and be both very perseverant and very patient". A couple of days ago I saw the picture of an eternal spiral staircase, and I thought: "this looks exactly how the writing path feels like!". Just when you think you've reached the summit, there's another, and then another, and another. So, be patient, resist discouragement, hone your craft, and persevere!
What is the best advice you have ever heard?
In terms of writing advice, I love Anton Chekhov's quote: "Don't tell me the moon is shining; show me the glint of light on broken glass". It's the old 'show don't tell' rule, but more poetic. I also love Oscar Wilde's quote: "Be yourself – everyone else is taken".
What are you reading now?
As usual, I'm going through several books at a time. I'm re-reading "Harry Potter and the Prisoner of Azkaban", going through "The Midnight Library" by Matt Haig, starting "Everyday" by David Levithan, and delving into "A Brief History of Time" by Stephen Hawking. I've got a pile more on my TBR list!
What's next for you as a writer?
I'm starting to outline a sequel for "The Last Tree", and I also have in plans a new middle grade adventure, similar to "Sarah and the House of Mysteries" but with different characters and on a different setting. I'm also planning on translating my books into other languages, which is a beautiful challenge. And, of course, I'm always writing and posting new non-fiction articles on my bilingual blog, A Curious Culturalist.
If you were going to be stranded on a desert island and allowed to take 3 or 4 books with you what books would you bring?
Oh, wow! That's hard! Only four books! I guess it would have to be The Complete Works of William Shakespeare, The Complete Works of Oscar Wilde, The Complete Works by Neil Gaiman, and (not yet existing, though it should), The Complete Harry Potter saga. I know I should pack a survival guide instead, but I'm picturing that the desert island comes with a sturdy shelter and clean running water – right? I think I could do with those four books for a little while, until my rescue arrives. 🙂
Author Websites and Profiles
Sophie Lipton's Social Media Links