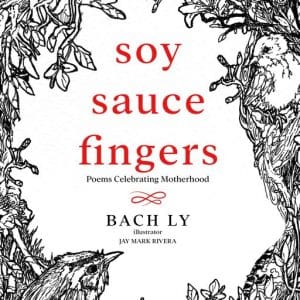 About Soy sauce fingers : poems celebrating motherhood
Soy Sauce Fingers is an illustrated poetry book for mothers recovering from difficult childhoods. It's a collection of narrative poetry that tells the story of a new mother overcoming her difficult childhood to becoming the woman her children deserve.
Him and the Moon
A glorious moon shares her beauty
Over the ancient rain forest of Hawaii
I stand before her in all my glory
Naked, young, wild, free
I cry out to the winds in anguish
"Am I good enough to be a Mother?"
My darkness swallows the moon
Many creatures emerge from the shadows
Their teeth grinding out a chant that fills my ears
A whisper song of my faults and wrongs
Blinded by the past, I stumble forward
I gather my strength and stand again
"I want to create life and I don't know why
But I feel it deep inside"
My words drown out the beasts' song
A warm kind hand takes mine
His voice touches my heart as he says
"I think you'll make a great mom"
My eyes are clear and all that remains is
Him and the moon
-Bach Ly
A voice that understands not everyone had healthy family lives and how hard it can be to adjust to the role of a loving mother because they never had a good example of that. It's often hard to explain what it feels like to be in this unique place but the poems in this book will give you a safe place to be that hurt child and loving mom at the same time. We aren't fully healed but that doesn't mean we can't overcome the past and unlearn the behaviors that scarred us.
I shares my own experience, thoughts & feelings about healing myself after I entered motherhood, tackling hard topics like domestic violence, self doubt, fears, and hope. Every single poem speaks intimately to the experiences as a healing mother.
Enjoying the company of this book may hurt because it's a collection of honest emotional reflections so give yourself some alone time and space to feel seen, understood and cared for.
Buy the book, and follow the author on social media:

Author Bio:
Hawaii local, Bach Ly is the mother of two girls and enjoys poetry, ocean swimming, and self healing. When she's not writing, she's playing with her children or digging in the garden. Her work is full of love and hope while also honest and fearless.