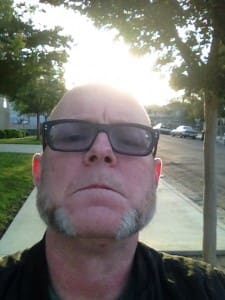 Tell us about yourself and how many books you have written.
I'm a Texas-born, California-bred TV writer/producer who's known I was meant to be a writer since at least the second grade. I've got the wife, the kid, the dogs and a really fantastic life that took a few decades to stumble into sideways.
As for how many books I've written, it's at least three, start to finish, but the longest of them was the least publishable, and languishes in a drawer even now. I've published two. The first was a novella called The Villain's Sidekick that got me back into my lifelong love of prose after several years churning out scripts (which was a great way to learn about economy of words and actually finishing something I could be proud of). It's about a supervillain's henchman called HandCannon with a machine gun arm, a steel jaw, an estranged ex-wife and an adorably precocious 6-year-old daughter. It's all set against the backdrop of my hometown, Houston, Texas, and has been favorably compared to Walker Percy and Elmore Leonard. The brief prequel–which is either a long short story or a novelette, depending who you ask–is called The Eternity Conundrum and is a sort of parody of all those mega-event crossover comics that Marvel and DC seem to put out several times a year now. But it's also a very small story about what you do when everyday life gets in the way of your big crazy plans for world domination.
What is the name of your latest book and what inspired it?
Right now I'm churning and burning on a full-length sequel called Citizen Skin, which covers both fallout from the events of Villain's and a whole host of new problems, enemies, and shenanigans. It alternates POVs from chapter to chapter between HandCannon and a young woman he meets in the first book. They've both been forced by circumstance to become unlikely badass heroes and save, if not the world, at least their little corner of it.
Do you have any unusual writing habits?
All my writing habits are unusual. I don't have a particular time or place that I write, though I try not to wait for inspiration to strike because that's just begging for trouble. With the life that I have–a full-time job, a family, a rare desire to be social and a frequent desire to be entertained–I find I need to grab the few free moments I get to write my butt off. It's taken two years since publishing Villain's to get a draft of this sequel almost finished, and from then it's just the uphill battle to edit and make it coalesce as a coherent story. When I still smoked and drank, I probably had more rituals around my writing, but now I just need some food in my belly, a tall Arnold Palmer and my nicotine gum nearby and I'm good to go.
What authors, or books have influenced you?
The book that may have been the biggest influence on my becoming a writer was Peter Benchley's Jaws, of all things. Which is funny because I don't even think it's that great of a book; one of those cases, like The Godfather, where the movie infinitely improves on the text and elides the more purposeless subplots (not to mention the shark POV). But I read it when I was 8 years old, precisely because I'd seen and become obsessed with the movie. And I immediately started writing my own version in a spiral notebook with a lavender cover. Beyond that, the writers who've most influenced me in terms of storytelling, style, and sheer creativity are Hunter S. Thompson, Philip K. Dick, Jim Thompson, James Ellroy, Don Delillo, William Gibson and John Brunner. All great idea men, world builders, character generators, and most of them have terrific senses of humor that leaven the heaviness. Even the most serious story, if it's 100% humorless, just seems alien to me. Also, shout out to Austin Grossman, author of Soon I Will Be Invincible, who demonstrated that you can write a genuinely great book about superheroes, of all things.
What are you working on now?
In addition to trying to finish Citizen Skin, I'm writing a series of HandCannon origin stories called 12 Angry Steps. It's kind of about his road to both supervillainy and addiction recovery (something we have in common) told in twelve stories spanning various periods of his life. A sort of Twelve Labors of Hercules for a perennially down-on-his-luck antihero. When I set out to write Villain's Sidekick, I thought it would be a one off short story, but I've become unexpectedly obsessed with this guy and telling his life story. He's the classic marginalized second or third-tier bad guy, the kind of character Rob Liefeld (ugh) would have created for Image Comics back in the '90s. My whole inspiration was to take a half-forgettable character like that and get inside his head, find his point of entry as a relatable, empathetic human with hopes and fears and a diabetic cat he has to take care of. Who is that guy when he goes home to his sad apartment at night? And even when I get to write my next epic that doesn't involve HandCannon, it all takes place in the same universe, which is something I've loved to do with all my stories, always, equally inspired by comic book multiverses and Faulkner's Yoknapatawpha County.
What is your best method or website when it comes to promoting your books?
I don't know. Villain's is an Amazon exclusive, so it's usually about setting up a timed promotion–either free or discounted–and then spending as little money up front on promo sites as I can get away with to see who I can get to bite. I've used Awesome Gang several times now, and while I don't have any system of measurement for how successful it's been for me, I keep coming back because the name's so damn memorable and I like you guys.
Do you have any advice for new authors?
Write! Write every day. Write all the time. Write way more often than I do. Then, when you have something you're even vaguely satisfied with, share it with a swath of trusted friends and confidants who you know will be brutally honest in the most gentle way. Know that nothing's as great the first time you write it as it can be once you've edited it heavily a time or two. And know that nothing's as terrible as you think it is at your lowest self-doubting moments. Unless, of course, you're really just not a writer and you don't have what it takes to get better and better at this. In which case, don't waste anyone's time, least of all yours. There's a lot better, more productive things to do with your life than sit by yourself alone in a room with just your thoughts for hours at a time, so if you're going to do it, you better be all in.
What is the best advice you have ever heard?
I don't know if it counts as advice, but there's something we say in recovery that I've latched onto as a personal mantra: Give yourself a break. It comes in very handy during those dark moments of the soul when you feel like you deserve a good beating for some mistake or another. Forgive yourself. Don't ignore your mistakes, but find the value in having made them and move on. I know I'm talking more about life than writing here, but you can probably see how it applies to both (and really, for a writer, what's the difference?).
What are you reading now?
I've been reading Garth Ennis' Preacher, a comic from the '90s about a rough-and-tumble man of the cloth from Texas who gets possessed by an embryonic soul that was born of a union between an angel and a demon. He's got a badass, gun-happy girlfriend and a best bud who's an Irish vampire, and they're trying to track down God, who's taken a leave of absence from Heaven. It's dark and crass and smart and soulful and poignant and hilarious, often on the same page. It's being turned into a series for AMC by Seth Rogen and his writing partner Evan Goldberg, of all people, and they may just have the perfect sensibility for it. Definitely worth a look. Also, Matt Fraction's Sex Criminals, Greg Rucka's Lazarus, and Kurt Busiek's Astro City have all been high on my reading list.
What's next for you as a writer?
Fame, fortune, relapse. No, just taking it day by day, getting through this next one and getting on with the next. Trying to tackle the ideas and stories right in front of me before a new idea comes along and tries to take over. It's what used to happen to me all the time, when I wasn't finishing things. I'd start something I thought was going to be great then step away and get mired in life and lose focus, interest and heart. Trying not to let that be part of the pattern anymore. No longer living under the illusion that I have all the time in the world to do the few things I want to get done in this life.
If you were going to be stranded on a desert island and allowed to take 3 or 4 books with you what books would you bring?
Motherless Brooklyn by Jonatham Lethem. A warm sweet funny thrilling book that turns the hardboiled detective genre on its ear by making its sleuth an OCD and Tourette's-suffering half a basket case, years before Monk was on the air.
White Noise by Don Delillo. My first exposure to serious literary fiction that still managed to be playful, frequently hilarious, and very science fictional even though it took place in some approximation of "our world." Also a terrific meditation on fame, infamy, legacy and the neverending inevitability of death.
A Scanner Darkly (or maybe Valis) by Philip K. Dick. Like the flipside of White Noise, a great exposure to science fiction that took place in a reality just a few steps removed from our own, a piece of genre fiction wrestling with questions of identity, addiction, truth vs. reality, and other concepts every bit as heady as any more high-minded literary work.
Planetary by Warren Ellis, because it's possibly my favorite complete run of a comic book series of all time. Ellis is contending not only with some of those aforementioned big ideas, but with the tropes and ideas and characters of a century's worth of our most societally ingrained pulp myth and genre fiction. It's full of big wild ideas, comedy, tragedy, uncertainty, apocalyptic anxiety and a kind of angry optimism, as if hope on its own were something we need to be willing to fight to the death for.
Jaws, because I've always thought I should maybe reread it. You know what? Screw that. Will there be a DVD player on this hypothetical island?
Author Websites and Profiles
Stephen Brophy Website
Stephen Brophy Amazon Profile
Stephen Brophy Author Profile on Smashwords
Stephen Brophy's Social Media Links
Goodreads Profile
Facebook Profile
Twitter Account