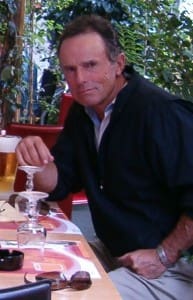 Tell us about yourself and how many books you have written.
Born, raised and educated in Canada, Stephen spent the first half of his career working for the two largest oil companies in the world: Exxon and royal Dutch Shell. He spent the second half working for one of the smallest oil companies in the world; his own. He has three sons and one daughter, all of whom are grown and "off the payroll". Now retired, he spends his summers with his wife, Ann, and their two cats, Abby and Samantha, at their Canadian home near Niagara Falls. They winter at their Florida home in Port St. Lucie. When he is not writing, he is reading, traveling, or playing horrifying golf.
For Stephen, writing was an accident. When his friends in Muskoka, Canada, and Florida became aware of the story of his incredible life in the Canadian oil business, they encouraged him to commit it to writing. They insisted it was a story that must be told, that it is a piece of national history. Reluctantly, he did, and after more than twenty years the story of AN ENDLESS AND CONFLICTED LOVE, A MAN WHO PLAYED WITH FIRE AND NEARLY LOST HIS LIFE DOING IT, and ONE OF THE LARGEST AND MOST AUDACIOUS THEFTS IN CANADIAN HISTORY, was finally made public.
A criminal perpetrated one of the largest and most audacious gasoline tax evasion
scams in Canadian and U.S. history. He used The Peace Bridge, spanning The
Niagara River, as the fulcrum of his crime, and his private Cessna to transport
the fruits of that crime to a Cayman Island bank. In an interview with Stephen by a senior
official of C.S.I.S., (Canada's Security Intelligence Service), he was informed that
the scam had netted an amount "that makes The New York State Lottery look like a
Sunday school collection." Stephen's company did business with him. He knew him well. In
fact he was one of the most interesting individuals he has ever known.
Stephen has entitled the book: The Bridge to Caracas, for reasons that will ultimately be obvious to readers. Prior to choosing that title, he considered entitling the book: The Nicest Crook I Ever Knew, but in the end, Jim Servito, the antagonist, was really not a very nice person.
The sequels,The Tainted Trust, (the story of what happened to the fortune stolen from the Canadian and U.S. governments), the second in The King Trilogy, and Kerri's War, the third volume in The King Trilogy, (the continuing saga of the inconvenient fortune, are now live on Amazon KDP.
Stephen has said, "If readers have half as much fun reading The King Trilogy as I did writing it, they will be enriched."
What is the name of your latest book and what inspired it?
My latest book is KERRI'S WAR, Volume three of The King Trilogy. The most obvious inspiration for writing it was to complete the trilogy, but it was not the only one. Kerri King's character had been reasonably well developed in THE TAINTED TRUST, but her story was far from complete. For all of her trials and tribulations, she deserved to find true love. In addition, the inconvenient fortune created from the fruits of Jim Servito's crimes in THE BRIDGE TO CARACAS was still wreaking havoc on the lives of those who touched it. I wanted readers to follow the path of that fortune to a "fitting" conclusion.
Do you have any unusual writing habits?
Yes. I have no schedule or deadlines. My career in the oil business gave me enough of those to last me a lifetime. In addition, I write all of my manuscripts longhand, then descend to the keyboard and hope I can read my writing.
What authors, or books have influenced you?
John Grisham, not only for his amazing success story, but for his stories. He tells good ones.
Nicolas Sparks, for his deep understanding of how to tell a compelling love story.
I'm an incurable romantic.
Nora Roberts, for her ability to tell so many great stories, and keep going.
Ken Follett, for the depth of his research and for his wonderful fiction.
Stieg Larsson, for writing all three volumes of a trilogy, then publishing it,
( just what I did.)
What are you working on now?
Currently I'm dividing my time between marketing The King Trilogy and creating a plot for a fourth book, a continuation of the trilogy. Somewhere in the deepest reaches of my mind has been a burning desire to take the incredible story of the King family all the way to the present day.
What is your best method or website when it comes to promoting your books?
I have used the social media extensively and have developed more than a modest presence on Twitter, Facebook, Linkedin, Goodreads, and Google+. It is likely way too early to measure the effectiveness of this approach because it was on June 23, 2013 when The King Trilogy went live on Amazon KDP. I utilized the full KDP five day FREE promotion for all three books with very exciting results. I have invested a significant amount of money advertizing the trilogy on popular online sites, but again it is likely too early to draw any certain conclusions as to which or any of those investments have been effective. I'm told that a prospective customer must see an ad at least seven times before making a purchase decision.
By far the most cost effective and successful promotion so far has been my business cards. For $37.00 I had 500 cards printed. On one side are the three cover images: (THE BRIDGE TO CARACAS, THE TAINTED TRUST, and KERRI'S WAR). The purchase URLS are prominently displayed, (in blue), on the other side.
Do you have any advice for new authors?
Yes.
Scale down your expectations. I strongly believe that there is an inverse relationship between the degree of enjoyment and the level of expectation. In other words, if you expect nothing, a modest success will exceed your expectations. Conversely, if you expect readers to scoop up your books by the millions, you are bound to experience disappointment.
Another piece of advice that I would offer is to read extensively, particularly the works of great and successful authors. Study their style and make notes. Learn how they use words to develop plots and characters, and to paint pictures. Then go forth and develop your own style.
A final piece of advice might emerge from a piece I wrote recently on the subject of retirement. I hope some readers are able to find what I found.
A little over a year ago, I had the pleasure of reading a brilliantly composed blog by Michael R. Hicks, (@KreelanWarrior), His blog, entitled: Adjusting to Being a Full-time Author, and posted in four parts on his website, http://authormichaelhicks.com/, is about how and why he left his secure full-time government job to become a full-time author. Impressed by his story, I subscribed to his blog and posted a comment, congratulating him on what he had done, and for the courage of his conviction.
Simultaneously I was brutally reminded of the time I made a similar decision. Mine was not to become a full-time author, but to leave a secure career with "Big Oil", and become an owner and player in "Small Oil." Most of the fears and concerns expressed by Michael Hicks were similar to my own. Am I really capable of going it alone? Will I be able to support a wife, three boys and a dog? What if I fail? In spite of all of the mental and financial obstacles, I took the plunge. Armed with the desire to succeed and the fear of failure, not necessarily in that order, I managed to stay over the line, all the while running like hell.
Rather than bore the reader with an exhaustive description of what happened next, I'll simply state that after eighteen years of operating as an owner in "Small Oil", I sold my company and disappeared into obscurity. Our three boys are now adults and succeeding on their own. Our dog, Sandler, unfortunately passed away eleven years ago. My wife, Ann, and I remain in obscurity to this day, spending our summers in Niagara Falls, Canada, and our winters in Port St. Lucie, Florida.
For a more detailed account of how I did what I did, I refer you to my ebook: THE BRIDGE TO CARACAS). http://ow.ly/pfZRG It's the factional story of my life. I'll leave it up to the reader to determine how much is fact and how much is fiction. If you have half as much fun reading it as I did living it, you'll be enriched.
The purpose in writing this piece is to describe what happened after retirement, and how my wife and I continued to live in obscurity for 23 years, without a pension. Retirement is, quite literally, another plunge, a leap of faith loaded with emotional baggage. For me, most of the fears and trepidations accompanying the first plunge were present in this one: Do we have enough money? Will it last? How do we manage it? Will I be bored in retirement? How long will it take for my ego to rear its ugly head? Am I buying my own con by preparing my own budget? Will I regret selling my company?
Tormented by all of the above concerns, (and numerous others), I took the plunge into retirement, unchartered waters. Happily, before the end of the first year it had become obvious that most of my fears were unwarranted. Best of all, I discovered that retirement is fun, so enjoyable that I began to wonder how I ever got anything done when I worked. I woke up each morning with nothing to do, then went to bed with only half of it done. I began to look at the clock, desperate for more time, and plead with it to slow down. To this day, I don't know how I managed to find enough time to write.
With respect to money, it took much longer to purge my mind of concerns. Cleverly, I elected to hire money managers to look after our nest-egg. Bad decision. After more than seven years, these managers, (A.K.A. financial engineers), had succeeded in losing more than 20% of our initial capital, while paying themselves well for their efforts. Enough!" I said, then summarily terminated their services. In addition to transforming myself into an Indie Investor, that move turned out to be one of the best I have ever made.
In the time that has elapsed since that termination, my wife and I have not only lived happily in retirement, we have managed to more that double our initial capital. The happy ending stems from a decision to invest in what I knew best: the oil business, more specifically, crude oil and natural gas production in western Canada. While living on the dividends, we have been delighted to watch the capital grow, attack the Bucket List, and to lament not having become an Indie Investor sooner.
What is the best advice you have ever heard?
When you think you're good, you're not.
What are you reading now?
Two books:
1. Ken Follett's: "Winter of the World."
2. John Grisham's: "The Litigators."
What's next for you as a writer?
I plan to continue to write until my dying day, probably longer.
What is your favorite book of all time?
Two books, one non-fiction and one fiction.
1. "The Prize" by Daniel Yergin. I chose this because it describes the epic quest for oil, money and power, essentially
the environment in which I worked for so many years.
2. "Winter of the World." I chose this because, having read almost all of his books, I think Ken Follett is the king of
historical fiction.
Author Websites and Profiles
Stephen Douglass Website
Stephen Douglass Amazon Profile
Stephen Douglass's Social Media Links
Goodreads Profile
Facebook Profile
Twitter Account