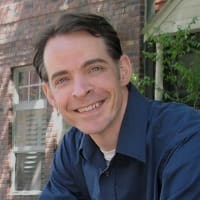 Tell us about yourself and how many books you have written.
I was born in Los Angeles, California and raised the city of Lancaster, which sits at the northern-most end of Los Angeles County. The son of a second generation deputy sheriff, I spent several hours each week after school (both grade and middle) at the local library, where I'd wait for my dad to get off work and drive me home. During those hours I would immerse myself in archived copies of Starlog Magazine (nearly every issue published between 1976 thru 1990), where I'd read the behind the scenes exploits of my favorite science fiction movies and television series. In high school I was highly active in art, sometimes taking as many as three art classes per year. My junior year I enrolled in journalism, where I produced a great many articles for the Opinion page. That's when I really got bitten by the writers bug.
After high school I joined the US Navy as a computer technology specialist, working on the west coast with an anti-submarine and scouting squadron, and later on the east coast onboard a guided missile cruiser as part of the Enterprise battle group. During deployment to the Persian Gulf in 1998, I was offered given a Star Trek book to read (to help fill my addiction to science fiction). It was, in my opinion, a very poorly written work. Telling my friend this, he challenged me with "Well, then write your own and I'll let you know." That's was all it took. I punched out a 70k word fanfic novel in less than three months, which I had to print out on an old LaserJet to give back to my friend. The novel made its way around the boat, and I was soon heralded as an "up and coming writer with lots of potential." Needless to say, for it being my first work written in excess of 5,000 words, I was stoked,
Afterwards, life got busy—as it usually does—and I didn't pick up the pen for another five years. I started dabbling in 2009, then decided to produce a few more fanfic novels to get back into the habit of writing. Although largely unedited, they received high praise from the Star Trek fanfic community.
I took the skills leaned in those exploits and produced my first published novel, The Army of Light, in June of 2013. The second, Icarus, was published on September 15th, 2013.
What is the name of your latest book and what inspired it?
My latest novel is Icarus, which is the continuation of the Kestrel Saga: as set up in my first novel, The Army of Light (both of which are available on Amazon.com, provided through my own publishing company, JRP). Icarus continues the story of the ex-Unified Sector Command fighter pilot Shawn Kestrel, and the beautiful and enigmatic Office of Special Investigations Agent Melissa Graves, as the two search for Melissa's father, Admiral William Graves, Shawn's friend and former commanding officer. While investigating a possible government conspiracy on a war-torn world in the far reaches of Unified space, the Admiral disappeared without a trace. Due to the precarious proximity of the world to Kafaran territory, home to the former blood enemy of the Unified Collaboration of Systems, a Sector Command battle fleet was dispatched to ascertain his status. The fleet, including the heavy cruiser Icarus, likewise went missing.
In the course of Shawn and Melissa's search, and with the sometimes reluctant help of the Sector Command fleet carrier Rhea, they discover the ravaged wreck of the cruiser Icarus. Expecting to find answers, Shawn and Melissa board the ship, only to be confronted with an even deeper mystery that threatens the safety of the galaxy once again
Do you have any unusual writing habits?
I love a good banter between opposing (and sometimes cooperating) characters. In fact, I've gotten so caught up in word play that my first-draft readers often forget which of the characters are speaking at the moment. I've since learned how to differentiate, but I still get caught up in it every once in a while. What is most difficult for me is pacing. I can sometimes use more words than necessary to describe a scene, and cutting it down to a manageable level makes me feel like I'm taking something away from the reader's experience. That being said, I'm learning balance, and I think it will shine through in successive works.
What authors, or books have influenced you?
I don't know…maybe not an author. Does that sound bad? What I'd really love to do is spend time with a storyteller, and by that I mean someone in the motion picture industry…someone who condenses what could be a 500 page novel into a 2 ½ hour experience that completely blows your mind. Those are the kind of people who understand content, pacing, action, dialogue, scenery, etc. Stephen Spielberg or George Lucas pop instantly into my mind. If I, as an author, could capture the 'essence' of Star Wars, Indian Jones, or Shindler's List into a well written book, I'd have pure gold.
What are you working on now?
I'm nearing the final editing phase of the third book in the Kestrel Saga, Second Earth, which will be released on Amazon on December 15th (the 6 month anniversary of my release of The Army of Light). It will continue the established story, wrapping up many of the loose ends while simultaneously putting my characters on a new adventure. I'm also working on a new series that will fall under the Origins: umbrella. This saga, set a decade or so before the events of The Army of Light, will chronicle adventures in various factions of the entities I've created for the Kestrel Saga. While there will be characters and settings from the Kestrel Saga involved for continuity's sake, 90% will be all new (including plot and lead characters). The first book, OSI: Traitor Winds, will be released on March 15th, 2014. A successive novel underscoring the exploits of a Sector Command cruiser, and another based on the Unified Sector Commands Marine Corps, will follow later in 2014. There is also a fourth book in the Kestrel Saga outlined, but I'm not sure when that would be released.
What is your best method or website when it comes to promoting your books?
I'm still searching that one out. I've had a lot of positive experience with Goodreads.com, and my own website gets a pretty fair amount of traffic.
Do you have any advice for new authors?
Write what you love, and tell the story you want to tell, not one that you think readers want to buy. If you are passionate about your topic, your readers will see it, and you'll have earned a fan.
What is the best advice you have ever heard?
It's not about what others think of you, it's about what you think of yourself.
What is your favorite book of all time?
Cyrano de Bergerac, written in 1897 by Edmond Rostand.
Author Websites and Profiles
Stephen Fender Website
Stephen Fender Amazon Profile
Stephen Fender's Social Media Links
Goodreads Profile
Facebook Profile
Twitter Account