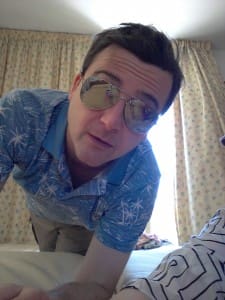 Tell us about yourself and how many books you have written.
I've written too much. Seriously. And I'm nowhere near stopping.
I've got seven novels completed so far and a horde of short stories, but over the years I've never really stopped for long enough to commit properly to submitting work to agents and publishers. I try for a bit, but a few rejections with no feedback leave me uninterested and by that point the next story is crying out to be written. With a nice big push from my love, I've decided it's time to do things myself, get on Kindle, and with this resolve has come an amount of energy I didn't realise I had. Now that there's only myself to rely on, I'm happy to do plenty of work to get my stories out there.
What is the name of your latest book and what inspired it?
My latest book, which I've recently published on Kindle, is a YA paranormal horror entitled Macadamian Pliers, about an unpleasant man who makes haunted houses and fills them with unwitting innocent families. Cherry Raine is the daughter of one such family, a girl who must find within herself the bravery to face down insurmountable supernatural odds.
It's inspired tonally by a whole slew of great 80's movies. Think of The 'Burbs, Gremlins, Lost Boys, and Super 8 (which is definitely 80s even though it was made only a couple of years ago), and you'll start to get the flavour of it. From a personal point of view, I was keen to write a heroine with emotional restrictions and physical difficulties who would be forced to dig deep for whatever kind of person she really is. Plus, after spending so much energy moaning about how awful modern horror is, I wanted to have a go myself.
Do you have any unusual writing habits?
I can write anywhere and under any circumstances. Really. Any noise, any chaos, it makes no difference. My partner thinks that it's impossible, that I must surely end up writing total gibberish. She could very well be right. Any reviews I get for my novels should provide a definite answer.
What authors, or books have influenced you?
It's a classic answer, almost a cliche for my generation, but Stephen King is at the top of the list. There's only one reason why so many people admire and imitate him: the characterisation. Whatever weirdness may be going on, his characters draw you in and make the whole thing believable. There's also Clive Barker, who shows just how far imagination can go when it's allowed to fly, and Terry Pratchett for his joyous sense of humour and his great sci-fi notions.
What are you working on now?
I'm halfway through a children's novel at the moment. It's about a girl who wants to become the world's greatest mad scientist, and the variety of events in her life that lead her down this crazy path. It's turning out to be a little bit loopy, and I love it for that. Madison is one of the biggest characters that's come to me yet, and she's got one hell of a story to tell.
What is your best method or website when it comes to promoting your books?
Keep an eye on Twitter. It's great. Once you get a network of indie authors going, there's all kinds of advice to take and blogs to be inspired by and suggestions for new places to promote yourself, and it really is indispensable in the digital self-publishing world. There's always something new to learn and someone willing to teach you.
Do you have any advice for new authors?
Yeah. Get on with it!
Seriously, just write. It's all got to be fun, so enjoy it. Don't be scared of putting your work out there. Write a blog, post chapters and short stories, take the feedback, don't be hurt by it. Give back to others too. Promote other indies and they WILL promote you. Do favours to get favours. You'll rapidly see that there's a great community on Twitter, and everyone's out for each other as well as themselves. And keep reading. After all, that's what we're all here for.
What is the best advice you have ever heard?
Stephen King's On Writing has got all kinds of great stuff to say. It's like a goldmine, and leaves you feeling really inspired. But the most important part for me was this equation: 1st draft = 2nd draft – 20%. I resisted that for years. I thought that every word I wrote was vital to the story, there was nothing going spare. It wasn't possible that I could cut anything! Then I gave it a try on Macadamian Pliers, cut nearly 20,000 words over the course of a week and a half (and it was a brutal time). The result? A tighter, leaner story with a much better pace. That equation transformed the novel.
What are you reading now?
Michael Grant's Gone series, which are fast-paced, tough, and have those vital believable characters in place.
What's next for you as a writer?
More! More of everything.
Now that I've dipped my toe into KDP and got a decent idea of how that all works, I want to give Smashwords a try, see if that does anything to extend my reach. I intend to explore more promo options, and keep on blogging, and get stuck into the work of all those indie authors on twitter. There's always plenty to do.
What is your favorite book of all time?
Um…
Is it The Stand? It? Salem's Lot? His Dark Materials? Imajica? Abarat? Life of Pi?
I think it's one of these. I think.
I'll get back to you on that one.
Author Websites and Profiles
Steve Conoboy Website
Steve Conoboy Amazon Profile
Steve Conoboy Author Profile on Smashwords
Steve Conoboy's Social Media Links
Goodreads Profile
Facebook Profile
Twitter Account
Pinterest Account