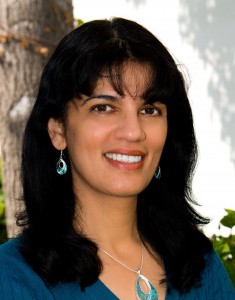 Tell us about yourself and how many books you have written.
I was an Indian Air Force physician for five years, then came to the United States for further studies. I am a practicing pathologist in Southern California. While making diagnoses is my profession, creative writing is my passion. My short stories were published in short-story.net and induswomanwriting.com.
I published my first fiction book The Vision in 2014. My new release Shadowed Promise launched in Jan 2016.
What is the name of your latest book and what inspired it?
My latest book is Shadowed Promise. It was inspired by a friend who had adopted her sister's child and kept it secret from her husband, threatening their marriage. I enjoy reading and writing about various experiences immigrants have when they come to a new country. In Shadowed Promise, I combined the themes. The protagonist is in the middle of riots in Bombay and makes a decision that comes to haunt her years later, when she comes to the United States.
Do you have any unusual writing habits?
I write after I turn on the coffee machine. I write as I sip coffee, often letting it go cold. I type with five fingers: Two on the right hand, and three on the left. I think of what I'm going to write whle I'm walking, or jogging, or praying (I know! I'm supposed to concentrate on God!). Then as soon as I get to the computer, my five fingers fly!
What authors, or books have influenced you?
Somerset Maugham, Jhumpa Lahiri, Dan Brown, Nora Roberts. I also love JK Rowling (I have many of the Harry Potter dialogues memorized), and Tolkein, and Suzanne Collins. They span various genres, and I love them all.
What are you working on now?
I'm working on a story of four people thrown together. A special forces officer (alpha male), a woman hiding from the mob, a closet gay man from India, and an Indian female commando. Or some modifications. They all want diferent things, and must come together to have it all.
What is your best method or website when it comes to promoting your books?
I'm using buck books, bknights, fussy librarian, books butterfly and james mayfield promotions.
Do you have any advice for new authors?
Just write! make your characters have strengths and weaknesses. Give them desires impossible to achieve. Place obstacles in their path. When it gets slow, kill off a character. If you're stuck, start at the ending. Cut chapters mercilessly if they don't help. Combine characters. Make interesting sidekicks.
And then keep editing, especially for fiction. Put your book away for a few weeks. let inspiration come. Make changes. Edit! And enjoy the ride.
What is the best advice you have ever heard?
Put the book away for a few weeks after writing. Then come back to it and mercilessly fix issues.
What are you reading now?
I'm reading Jhumpa Lahiri's Unaccustomed Earth.
What's next for you as a writer?
I want to keep writing. I love fiction. It makes you get into the head of someone else, face their problems, and realize that your own pale in comparison. Writing, to me, is meditation.
If you were going to be stranded on a desert island and allowed to take 3 or 4 books with you what books would you bring?
That's a tough one. The Power of Now, Harry Potter 5, Autobiography of a Guru, Hunger Games 1, Interpreter of Maladies.
Author Websites and Profiles
Sunanda Chatterjee Website
Sunanda Chatterjee Amazon Profile
Sunanda Chatterjee's Social Media Links
Goodreads Profile
Facebook Profile