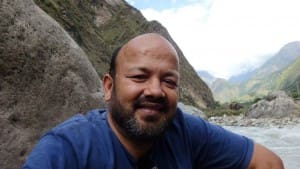 Tell us about yourself and how many books you have written.
Fiction has been an addiction but the need to make a living took me through Chemical Engineering and a PGDM at IIM-Bangalore and, from thence, to a long 16 year stint in the area of finance with specific expertise in fertilizer subsidies at IFFCO, and a further two years as consulting expert in the same area. That about sums up the boring part of my life, except for the people I was privileged to meet.
Born on 27 September 1963 in Chennai, India, I can be a dithering Libran most of the time. A company town upbringing at Neyveli and Engineering at Annamalai University, Chidambaram was leavened by management education at IIM-Bangalore and, later, working life at IFFCO, New Delhi. Having decided very early in life to write full-time after securing a financial future – which also incidentally meant that I remained single in order to make it as early as possible – I quit employment at the age of 41 and my consultancy at 43, and returned to Bangalore.
Otherwise, I can be described as a mess of contradictions – a bookworm but avid trekker; alone but never lonely; enjoy solitude but love company; lazy but a perfectionist, the litany is endless. Trekking, which side-tracked me from the writing for which I quit my job, is a major passion and I do, at least, one trek in the Himalayas every year in addition to numerous local treks.
I reignited my passion for writing with a fairly popular blog www.jambudweepam.blogspot.com. The blog has been rated among the Top 5 humour blogs in India, twice in succession – in 2014 and 2015 – by BlogAdda, and has also been listed third among the Top Humour Blogs by Baggout.
Having tried out fiction on my blog, I first had a story published in an anthology 'Uff ye emotions'. Later, along with a couple of friends, I self-published an anthology of crime stories on Amazon – Sirens Spell Danger – which had three novelettes, one penned by me. Currently, I have novella 'A dog eat dog-food world', which had been traditionally published in India by an indie publisher but I hold the ebook rights and the ebook is available on Amazon.
What is the name of your latest book and what inspired it?
My latest book is a novella 'A dog eat dog-food world', which is a satire on marketing management and its influence on Society. It is written as a humorous pseudo-history tracking the doings of Spike Fortune who sets out to sell dog-foods.
The book was, in part, influenced by my management education and the fact that it seemed likely that the same techniques could be used not merely to satisfy existing needs but to create needs that did not exist before. The increasing impact of advertisements on today's Society provided the impetus.
Needless to say, a humorist also revels in a subject that provides so much fodder for a parody!
Do you have any unusual writing habits?
None worth mentioning. Unless writing like a demon all night on occasion counts as unusual.
What authors, or books have influenced you?
Above everyone else, P.G. Wodehouse. Jerome K Jerome, Oscar Wilde, Mark Twain…
Not all my future books are in the Humor genre. I'd say I probably would count Alexandre Dumas for keeping the writing racy.
What are you working on now?
I am currently writing a coherent version of the Graeco-Roman Myth. When I thought of writing Fantasy, I thought of Greek Myth since my earliest introduction to myth was the Iliad. There are so many versions of the same tale and difficulties in the chronology that I decided to put together a coherent mythology, based on one or the other of the known versions, which I could use as research material for my own writing. I got caught up in the process and, now, this coherent version is developing as a book.
What is your best method or website when it comes to promoting your books?
I am still feeling my way here.
Do you have any advice for new authors?
I am relatively new myself.
Cliched but nothing better can really be said – Read a lot and Write a lot.
What is the best advice you have ever heard?
The same thing as above – If you want to write, write! What you want to write is something that you should want to read.
What are you reading now?
Colleen McCullough's Rome series
What's next for you as a writer?
Hoping to break into the Big Five's lists.
If you were going to be stranded on a desert island and allowed to take 3 or 4 books with you what books would you bring?
If I can cheat here a bit
1. The Complete works of Shakespeare
2. The World of Jeeves by P.G.Wodehouse
3. The Complete works of Oscar Wilde
4. The collected short stories of O. Henry
Author Websites and Profiles
Suresh Chandrasekaran Website
Suresh Chandrasekaran's Social Media Links
Goodreads Profile
Facebook Profile
Twitter Account