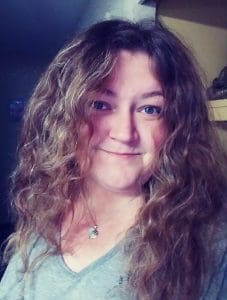 Interview With Author T.E. Ridener
Tell us about yourself and how many books you have written.
Oh, gosh. Where to start? I finally got hitched last year, so that feels pretty nice, haha. I'm inching closer to 40 (don't mind), I have a cat and a dog, Christine and Cujo, respectively. I'm addicted to coffee, Pokemon Go, and collecting many different things.
I began writing waaaaaaaay back when. I published my first book in 2011 and I haven't looked back. In total, I have technically published 33 books, but most have been pulled down for re-rewrites and re-edits because I know I can do better, and I've grown so much over the past decade as a writer.
What is the name of your latest book and what inspired it?
The latest book (which I hope is published by the time this is posted) is called The Ice King's Heart, and it was inspired by a friend who wanted to see if I could write in the Fantasy genre. Of course, it is a romance because I love love, and it's my favorite thing to write about! It is the third and final book in the Descendants Series (I swear I named it before I even know the books/movies were a thing – big fan, though!)
Do you have any unusual writing habits?
I like to speak aloud while I'm writing the dialogue, and I usually try to feel the emotions as I go, so whether I'm crying, laughing, donning an accent, or getting angry, it's a lot of fun for me. Other than that? I suppose it would be me having casual conversations with my dog (Cujo) about where I'm stuck at, at the moment.
What authors, or books have influenced you?
R.L. Stine, Stephen King, Anne Rice – those are the big three for me. But I can also include Nancy Straight, Ashlyn Chase, Holly Black, Shona Husk, and Marie Hall. All wonderful authors – all wonderful books!
What are you working on now?
Erm…hopefully not the Ice King's Heart anymore! Fingers crossed that I'll be moved on to my bear-shifters again in the fictional (but wonderful) town of Kadenburg, Tennessee. Book 5, the final in the series, is called Reclaiming Kadenburg, and much like the forementioned, I've been working on it since 2014. (I know!!!! It's ridiculous!) I really want to have both series complete before 2022 draws to a close.
What is your best method or website when it comes to promoting your books?
Story Origin! And hopefully here. <3 I took a 2-year hiatus and I feel like I'm brand-new, all over again. I have found that platforms such a Facebook reels, Tik Tok, and Instagram can get you some new readers as well.
Do you have any advice for new authors?
Just write. Don't worry about anything else at the moment. When you make it to 'the end', then you can worry about everything else. Don't be afraid to ask questions. There have been many authors who didn't mind taking me by the hand and helping me get where I am today. I'm happy to help, too! Just. Keep. Writing!
What is the best advice you have ever heard?
"Not everyone will like your book, so just let those bad reviews roll off your back like water on a duck." – My stepmom, after I got emotional over my first 1-star review.
What are you reading now?
I'm re-reading a favorite! It's My Wild Irish Dragon by Ashlyn Chase. If you love shifters and some steam, I highly recommend it!
What's next for you as a writer?
Just completing all my series, getting my previously published books to where they need to be, and hopefully, maybe…horror? Yeah, I think I want to try that next. I can do horror! (No zombies though. No, thank you.)
If you were going to be stranded on a desert island and allowed to take 3 or 4 books with you what books would you bring?
I feel like I've heard this before… ah, yes. The Office! (big fan here)
I'm going to say my own, haha. That's terrible, isn't it?
The Truth About Kadenburg
Blood Betrayal (currently down for re-writes)
and The Fire King's Daughter
Author Websites and Profiles
T.E. Ridener's Social Media Links