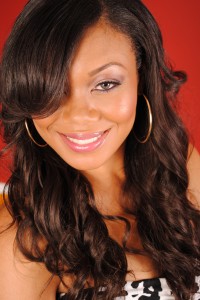 Tell us about yourself and how many books you have written.
Well, I'm a bit of a workaholic so I work 9-5, write in my down times and try to maintain my primary role of wife and mother. It's a tough job but somebody has to do it! I've been writing since I was a child and when I started college, I began my performance career (spoken word poetry, mostly). Then I fell in love with a creative writing class that was a part of the curriculum at the time and waaa-laaa…I was a budding novelist! My debut novel, Breaking Mobius, is a coming of age story of three students who choose different paths in life. All three have decisions they must make that affect their future, their friendships and ultimately, each other. It's a rollercoaster ride told from their perspective so you will laugh, be mad at a few characters, blush at sex scenes and think a little. I'm on my second novel, an action/suspense, called Girl Soldier which should release in the late part of 2014. I have an erotic e-book currently rated 4 stars as well. So I write multi-genre to keep me interested and on my toes…and hopefully you too!
What is the name of your latest book and what inspired it?
Breaking Mobius was inspired by my friend's crazy stories about love and relationships and my college years. I took all the different stories and tried to breath life into them through this book and the characters. I want to show the complexity of each character. A girl from an abusive home tries to shed the mental abuse and realize her potential. A man struggles to realize that he doesn't have it all even though he has a flourishing, high paying career. He is missing a vital piece of his life. Then lastly, a wayward woman who thinks she knows it all and can do it all meets her match, in the bedroom and in business, in an unlikely person. She has to make a choice to break her destructive cycle and ultimately change the course of her life.
Do you have any unusual writing habits?
I like to snack and write. I know, you'd expect me to be 300lbs. since the length of my novel is about 310 pages…but I'm not. I could stand to run a few miles but I'm not far gone enough to fall into depression. (laughs) But I usually eat Twizzlers and Jack Link's Peppered Beef Jerky. Sweet and spicy….kind of like me!
What authors, or books have influenced you?
I am a huge James Patterson, Iris Johansen, Eric Jerome Dickey and now…indie authors. I've found some real diamonds in the rough through Goodreads and find that the unexpected makes me more anxious and excited to read. Sometimes with well known authors I know what to expect, the style of writing, their nuances but with indie writers, especially debuts, it makes you feel like you found something special. Now, instead of having my bookshelf filled with well known, traditionally published authors, I am trying to purchase books that written from new authors with fresh appeal.
What are you working on now?
I am working on an action suspense novel called Girl Soldier. It's a story of a young girl, Rain Wilson, who is trying to find the mother who left her as a child and became embedded in a top secret world full of politics, terrorism and betrayal. She hopes that in finding her mother, she'll find the answer to her own identity. Her father knows more than he lets on and hides a past destined to come back to haunt him. He is protecting both Rain and her mother from a vicious political figure hell bent on covering up a national security threat he orchestrated under the nose of the government. He has countless reasons to hide the truth from the public and silence her mother, an undercover agent, before she gets too close to the truth. It should be an intense read with lots of suspenseful twists and turns that the reader should enjoy. You'll find yourself questioning who you are really rooting for…
What is your best method or website when it comes to promoting your books?
The best method of promoting books is social media, in my opinion. The more you socialize and become known, the more people want to help you, know you and buy from you. I also think Goodreads is a strong contender in promotions with their giveaways and review boards.
Do you have any advice for new authors?
New authors should never skimp on editing. We can likely do everything ourselves in the making of our book but editing is not a one pony show. You need many eyes to look at it multiple times (and this is after you've exhausted yourself for weeks on end, wondering whether you should delete a sentence or re-word it). Pay the money, get a good editor if you really want your book to be taken seriously. Oh…and covers. Get a book cover that doesn't look homemade. I've purchased indie books online solely on their covers many times. I'm sure I'm not the only one either…lol. So get that extra sales point…invest in a good cover design.
What is the best advice you have ever heard?
The best advice or quote I've heard is, "Life is the art of drawing without an eraser." You only have one time to make a good impression and that lingers in people's minds for a very long time and is sometimes impossible to change. So be nice, be professional and be open to criticism as a writer (I actually think someone on Goodreads said something to that effect).
What are you reading now?
I'm jumping between books. I've started a book by indie author, J. Libby, called All That and Love. It is not exactly what I thought it would be from the cover design and the title but I'm enjoying the story. I'm also starting Designer Genes by Jacqueline Diamond and Subfrenzy by Kimberlee Jane. I try to review authors that have the least amount of ratings first then work my way on up. It's my way of giving back to the indie community. I'd like someone to do the same for me to help my sales when they struggle, you know?
What's next for you as a writer?
As a writer, I am going to finish my second novel, Girl Soldier. Then I am going to start on a few short stories/novellas. I really like writing flash fiction because I like the instant gratification. That's why I wrote Crazy Dirty Love for Amazon. It's like getting to ride with a Nascar driver…160 miles an hour and you've had the best time of your life in 20 minutes. (laughs)
If you were going to be stranded on a desert island and allowed to take 3 or 4 books with you what books would you bring?
Wow. I'd have to do it in categories. I'd have an erotica book so that I could, you know, help myself out every now and again. So I'd pick Zane's Afterburn. Don't judge me, a girl has needs too. Next, I'd need something to help me on the island…so a survival guide would be my next choice. Maybe Survival for Dummies. (laughs) Then I'd need a book that was long enough to keep me interested and I'd probably go for my favorite, Coldest Winter Ever by Sistah Souljah. That book had me almost in tears and then rooting for all the wrong people. I could get lost in that story again. Lastly, I'd bring a random choice. Just grab something with a cool cover and take my chances…I think that gives me more excitement than choosing a book sometimes!
Author Websites and Profiles
T.R. Horne Website
T.R. Horne Amazon Profile
T.R. Horne's Social Media Links
Goodreads Profile
Facebook Profile
Twitter Account