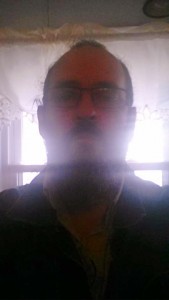 Tell us about yourself and how many books you have written.
I am nearly 50 years old, I have spent the greatest portion of my life observing the behaviors and actions of people, known and unknown to me. Likewise, I have spent most of my life in service to people known and unknown to me. I began writing about the age of 12 but have only recently published my first book.
What is the name of your latest book and what inspired it?
Etiam Tu: Eradicating Hatred, it was inspired by my young son taking me to task for my having given up on there being any hope for the human race. Because mankind has progressed so far of course from the path our societal evolution should have taken, as I had observed: I had, because of my disappointment, become disillusioned with humanity and their inability to learn to live as brothers and sisters. So once I accepted my commission to become my brother and sisters keeper I began to explain the Philosophy of Etiam Tu.
Do you have any unusual writing habits?
Well, when writing they are very meticulous, with several stages of digestion and processing of collected notes and data. The opportunities to work are sporadic and my best course of action is to keep something available to transcribe or record y thoughts and ideas on to or into.
What authors, or books have influenced you?
Atlas Shrugged, the Holy Bible, The Prophet, The Living Constitution, The Federalist Papers, The Anti-Federalist Paper, Numerous books by Ayn Rand. These were before I began writing my recent book, others I used for research also played a role.
What are you working on now?
Marketing. I began working on the next two titles in the Etiam Tu book series as I worked on the first book. These two will be Whose God? and VIPreA (that is Voluntary Individual Perception rational and emotional (re)Alignment. I have made very little progress on these since this book was published though.
What is your best method or website when it comes to promoting your books?
Facebook has collected a good number of international fans for my excerpts, but I believe twitter will be my best source of publicity in the US.
Do you have any advice for new authors?
Make use of as much technology as you can. Save your money to pay for professional editing services, and begin marketing far in advance of your publishing.
What is the best advice you have ever heard?
Butt in chair hands on keyboard. Work, produce, progress reach the finish. Also,you can never give up. If it was important enough to start it is important enough to finish.
What are you reading now?
Nothing. I have no time to read. Reading is how I clear my mind in between sections I am writing, a sorbet for my brain. At this time I am looking forward to writing again at that point I will get to read again.
What's next for you as a writer?
I am going to work on some short stories set in a world where my philosophy has become dominant of all personal interactions. I still need to create my bible for that though.
If you were going to be stranded on a desert island and allowed to take 3 or 4 books with you what books would you bring?
The Holy Bible, A survival guide, War and Peace, The Fountainhead
Author Websites and Profiles
Taktse Profit Website
Taktse Profit Amazon Profile
Taktse Profit's Social Media Links
Goodreads Profile
Twitter Account